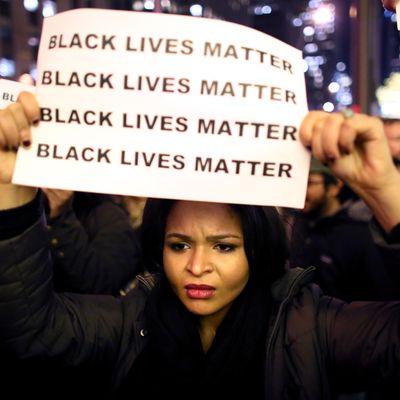 Photo: Yana Paskova/2014 Getty Images
People across the country were angered and hurt by the grand jury decision on the death of Eric Garner, from government officials to the thousands of protesters who shut down parts of New York on Wednesday night. The criminal case against Daniel Pantaleo, the white NYPD officer whose apparent chokehold led to the unarmed black man's death, is now over, but that doesn't mean he's in the clear. Pantaleo is facing a civil suit from the Garner family and an internal NYPD investigation, plus a just-announced federal civil-rights investigation. Here's what to expect from the Eric Garner case in the coming months.
THE FEDERAL CIVIL-RIGHTS PROBE
Action: Attorney General Eric Holder announced on Wednesday night that the Justice Department will launch an "independent, thorough, fair, and expeditious" criminal civil-rights investigation into the death of Eric Garner. "His death was, of course, a tragedy. All lives must be valued, all lives," Holder said at a press conference. "This is not a New York issue," he added. "We must seek to heal the breakdown in trust that we have seen."
The Justice Department has also launched civil-rights investigations into the fatal shootings of Trayvon Martin and Michael Brown, but law enforcement officials told the Washington Post that they don't have enough evidence to bring charges against former neighborhood watchman George Zimmerman or Ferguson police officer Darren Wilson. 
The federal probe of the Garner case will be overseen by U.S. Attorney Loretta Lynch for the Eastern District of New York, who has jurisdiction over Staten Island. She is also President Obama's nominee to succeed Holder as attorney general, and the case will probably define her confirmation process. Lynch has considerable experience with controversial police-brutality cases, since she prosecuted the 1997 sexual assault of Abner Louima by NYPD officers. She released this statement on Wednesday night:
Since the death of Eric Garner in July, our office has monitored this case closely. At the outset, informed by prior experience and in keeping with the standard practice in these types of cases in New York, the local investigation proceeded first. As the Attorney General explained earlier tonight, because the local investigation has come to a close, the Justice Department will now move forward with its own independent inquiry to determine whether federal civil rights laws have been violated. The investigation will be conducted by the U.S. Attorney's Office and the Justice Department's Civil Rights Division. The investigation will be fair and thorough, and it will be conducted as expeditiously as possible.
Possible Outcome: Experts were split on whether the Justice Department will be able to make a case against NYPD Officer Daniel Pantaleo. William Yeomans, an American University law professor who formerly led the Justice Department's civil-rights division, told the L.A. Times that the Garner incident may be easier to prosecute than Martin's or Brown's cases because of the video and because the case involves the use of physical force. "It's easier in that it is not a shooting, and shootings are less often indicted," said Yeomans.
He explained prosecutors will need to prove that the NYPD officers "acted with intent to use more force than reasonably necessary under the circumstances." Using a chokehold when the move is banned by the NYPD would seem to fit that description, though according to the New York Times, in his grand jury testimony Pantaleo says that isn't what he was doing:
Officer Pantaleo testified that when he put his hands on Mr. Garner, he was employing a maneuver taught to him at the Police Academy, hooking an arm underneath one of Mr. Garner's arms while wrapping the other around Mr. Garner's torso, Mr. London said. The move is meant to "tip the person so they lose their balance and go to the ground," as seen in wrestling, Mr. London said.
New York criminal-defense lawyers Patrick V. Parrotta and Joseph Sorrentino disagreed, telling the Staten Island Advance that federal prosecutors would have a hard time bringing charges against Pantaleo. "They would have to be of the opinion that this entire incident from start to finish was motivated by race, and nothing else," said Parrotta. "There is no tangential evidence that they singled out Eric Garner because of his race," Sorrentino added.
THE GARNER FAMILY'S CIVIL SUIT
Action: Garner's family filed a notice of claim in October, saying they planned to seek $75 million in damages from the city and the NYPD. The claim accuses the officers and their employer of wrongful death, assault, battery, intentional infliction of emotional distress, negligent supervision, and negligent training, among other injuries.
It also says Garner's civil rights were violated by the officers' "reckless and careless" actions. "The officers involved failed to properly report the use of the banned chokehold maneuver to superiors, so as to attempt to create a cover up. In addition, the police officers present when the banned chokehold was used failed to stop the use of this banned maneuver so as to become tactic collaborators," the notice says. "Respondents City of New York and The New York City Police Department were aware of prior lawsuits against police officers yet continued to retain them as employees."
Possible Outcome: The grand jury's decision not to indict Officer Pantaleo should not affect the family's case. As the Staten Island Advance notes, there is a different standard of proof in such cases: "Civil cases require jurors to find a preponderance of evidence as opposed to the requisite proof beyond a reasonable doubt in a criminal trial."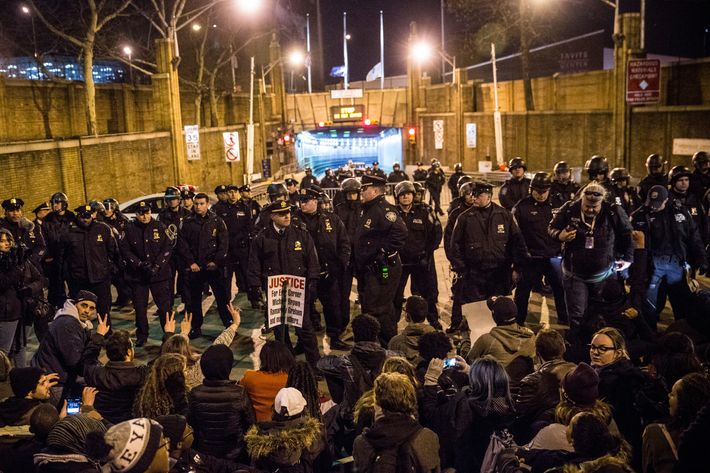 THE NYPD INTERNAL AFFAIRS INVESTIGATION
Action: The NYPD's Internal Affairs Bureau launched an investigation shortly after Garner's death, and they're still looking into whether Officer Pantaleo used excessive force. The eight-year veteran has been on modified duty since July and does not have access to his gun or badge.
Possible Outcome: If Pantaleo is charged internally, the department will hold a trial. Then the Department Advocate's office will make recommendations as to whether he should be fired or disciplined. Ultimately, the decision is up to NYPD Commissioner Bill Bratton. A police source told the New York Post that the Department Advocate is likely to recommend that he be disciplined. "The chokehold, however not criminal, does violate the patrol guide procedure in section 203 'use of force,' but the Department Advocate will merely make a suggestion of discipline to Bratton," the source said.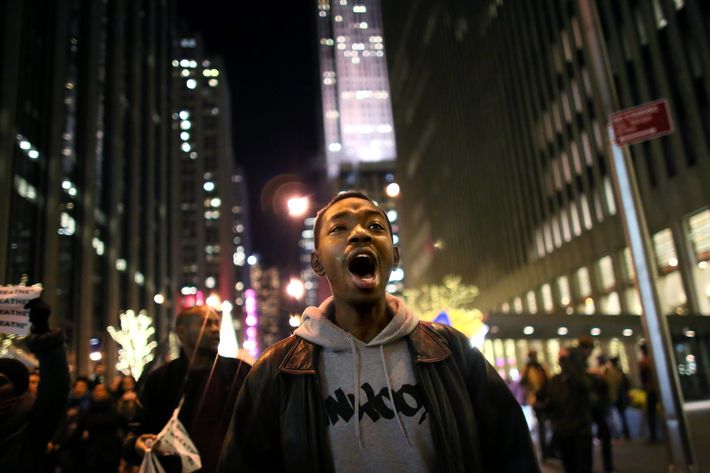 THE NATIONAL MARCH IN WASHINGTON
Action: Presumably, protests will continue in New York, Ferguson, and other cities over the coming weeks, and on Wednesday night Rev. Al Sharpton announced that there will be a national march in D.C. on December 13. Sharpton, who was surrounded by Garner's family at the press conference, referenced the shooting deaths of Michael Brown, Akai Gurley in New York, and Tamir Rice in Cleveland.
"It is time for a national march to deal with a national crisis. Why a national march? Because we cannot be put around like social hamsters – one minute Ferguson, next minute New York, next minute Cleveland," Sharpton said. "No, we're going to bring Ferguson, Cleveland, and all of New York to the nation's capital to say enough is enough."