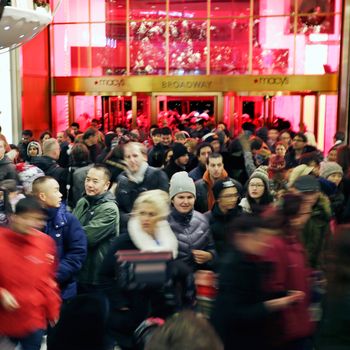 Photo: Bloomberg/Getty Images
Two strange things happened over the holiday weekend. The average price of a tank of gas fell to just $2.76. And Black Friday sales plummeted 11 percent. 
Neither datum is strange on its own, of course; it is the combination that has retail analysts and economists scratching their heads. That is because low prices at the pump tend to be a powerful stimulus for consumer spending. Every penny that gas prices fall translates into a billion or so dollars for families to spend on other things, like Christmas gifts, over the course of a year. The sharp decline in gasoline prices in the past few months had analysts convinced that we were in for a big Black Friday spending boom.
But Prosper Insight & Analytics has estimated that total spending over the weekend dropped to $50.9 billion from $57.4 billion in 2013. That is both because fewer people went shopping (133.7 million, versus 141.1 million a year ago) and because they spent less money ($380.95 on average, versus $407.02). Black Friday is dying. And there seem to be three big reasons.
1. The Hangover Economy
The National Retail Federation cited the still-sluggish recovery as a central culprit in the surprising spending numbers.
Executives at the retail federation, which had predicted strong growth in sales this holiday season, appeared at a loss to fully explain the drop-off. The results could show that "there are a significant number of Americans out there for whom the recession is not yet over," said Matthew Shay, the group's president and chief executive.
There's plenty of economic good news out there, including falling gas prices, rising employment, and improving consumer sentiment. Even so, wages have remained stagnant and many families still feel pinched, particularly at the lower end of the earnings spectrum. The depth of the recession and the sluggishness of the early recovery also might be lingering in families' minds, leading them to hold back on spending even when they have the money to spend.
Why the economy might have been more more of an issue this year compared to last year is a mystery, and the explanations get tautological pretty quickly. (Consumers are spending less … because they don't want to spend as much?) But there are two further trends that might have dissuaded price-sensitive consumers from heading out for Black Friday this year. 
2. Cannibalism
The retail universe is zero-sum. If you are buying a bath set at Superstore A, you are not buying it at Big Box Store B. That gives stores an incentive to get shoppers in the door on Black Friday with a few door-buster deals — a $119 television, say, or a one-cent Samsung Galaxy S5 — and then to juice their spending with many more fake "deals." Shoppers think that they are getting a bargain, but those 50-percent off bath sets probably cost the same amount, full price, a few weeks ago.
But there's another way for retailers to lure customers in: offering deals early or late, appealing both to avid shoppers and non-masochists who choose not to go out to hypercrowded malls with their relatives the day after a giant turkey dinner. As such, at Walmart, Black Friday has officially become a "five-day event." And really, this year, it has become an eight-week one. Target started pushing out its Black Friday deals on November 10, and Walmart on November 1. Stretching out the traditional Black Friday shopping window has reduced the pressure on families to shop on Black Friday itself — as evidenced by the deflation of the weekend's sales numbers.
3. The Internet
Sure, you can try to assess a deal in person: "This television seems like a bargain. That set looks the same and costs $50 more. Maybe I'll elbow 13 people out of the way to try to get that one over there … " But comparison-shopping is vastly easier online, and that is where millions of price-sensitive shoppers are now choosing to look for holiday gifts. And time is much less of the essence when you are looking for Aunt Millie's present on the web. Don't see a television that fits your criteria? Log off and wait a while, or pick out something else.
Many brick-and-mortar stores saw flatter sales through the holiday weekend. But online retail giants did well on Black Friday. Amazon's sales climbed 26 percent year over year, and Best Buy's website got so much traffic that it crashed.
The combination of those three things — still-tentative consumers shopping in a wide-open sales window with numerous online options — helped to undercut Black Friday this year, and good riddance to it, too. But do not worry too much about America's stores. At the end of the day, aggregate spending is all that matters to them. And there's no relationship between Black Friday sales and overall holiday sales — really, none — anyway.