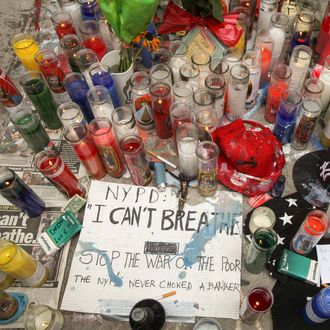 Photo: Nancy Siesel / Demotix/Corbis
On December 13, a woman in Illinois petitioned the U.S. Patent and Trademark office to grant her a trademark for the phrase "I can't breathe," the famous last words of NYPD chokehold victim Eric Garner that have become a rallying cry for anti-police-brutality protesters across the nation. Fifty-seven-year-old Catherine Crump wants to trademark the phrase so she can sell clothing garments emblazoned with it, reports the Smoking Gun.
Crump claims she's not applying for the trademark to make money, but wouldn't provide any other explanation for her actions. And in case you think Crump is uniquely terrible, TSG also writes that three separate people filed for trademark status on "Hands Up, Don't Shoot" within three weeks of Michael Brown's death. America, the land of opportunity!