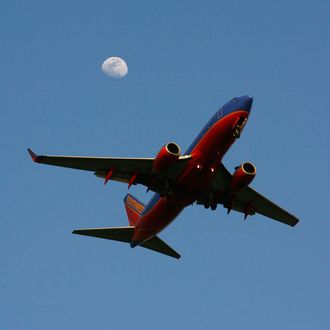 Photo: David McNew/Getty Images
In an effort to compete with other domestic air travel companies, Southwest Airlines is revamping its in-flight offerings to appeal to all sorts of customers. There are snacks, there's in-flight entertainment — and, at least on one recent flight — complimentary childbirth services.
A woman on a Southwest flight from San Francisco to Phoenix went into labor shortly after takeoff, according to CBS. The flight was diverted to Los Angeles owing to the emergency, but before it could land, a doctor and nurse who just happened to be onboard helped her deliver the baby.
If only all flights came with free medical care.