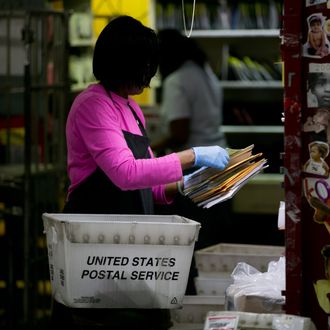 Photo: Andrew Harrer/Bloomberg via Getty Images
On Monday, a woman who worked in a Detroit mail center was charged with stealing mail after a customer discovered large piles of letters she had dumped along the roadside. Sharon Berrien reportedly stole greeting cards, opened them, and stole the cash from inside. 
Berrien says she didn't intend to be malicious, and isn't even in a financial situation where she needed the $1,000 she estimates she took from the cards. Instead, her motive was sheer, unadulterated ennui.
"I was bored," she straight-up told police.
Might I recommend becoming emotionally invested in a vacuous reality-TV show? It's a fun and easy way to distract yourself from the pointlessness of life and the inevitability of death. Plus, it's legal.