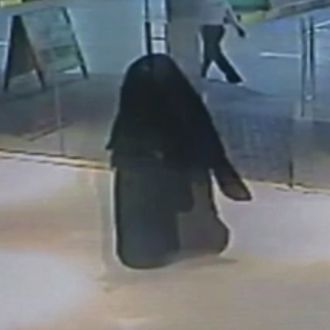 The murder of an American teacher in the United Arab Emirates has been named a "personal terrorist act," the country's authorities say. The suspect, identified by some as Dalal al Hashemi, allegedly stabbed Ibolya Ryan in a mall bathroom last week while clad head-to-toe in religious garb, then quickly disappeared.
A local news agency reported that the woman — a UAE citizen of Yemeni descent — had recently logged onto "terrorist websites," according to CNN. Just a few months prior, similar websites had urged people in the region to carry out isolated attacks on international educators, including Americans. Authorities also say she planted a bomb outside an Egyptian doctor's home after her mall attack.
"The investigations show that the accused has recently logged into some terrorist websites through which she acquired the terrorism ideology and learnt how to manufacture explosives," a source told the local agency, WAM. "After scrutiny, the seized materials used in manufacturing were shown to be primitive."
A video of the attack shows the veiled figure enter the mall through the parking lot. Then, she exits the elevator and talks to a security guard before heading for the bathroom. After the attack presumably took place, she's seen running out of the bathroom followed by a crowd of frightened people. One of them tries to stop her but is unsuccessful. (Of course the internet thinks that women who wear niqab are inherently scary and otherworldly. It's for that reason that this particular suspect was originally nicknamed "the ghost of Reem Island," although she obviously did some very this-worldly things, like speaking with a security guard.)
Ryan, the teacher, was a Romanian-born mother of three who had moved to Abu Dhabi last year. Her ex-husband, who shares a name with hunky GOP congressman Paul Ryan, said that Emirati authorities have been very supportive of him and have promised to pay for the children's college educations. They also gave him a power he probably wishes he didn't have: If the stabbing suspect is found guilty and sentenced to death, he will be the one with the ultimate right to commute that sentence.