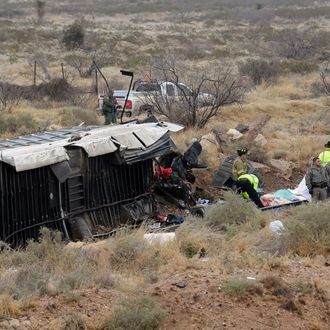 Photo: Mark Sterkel/AP Photo/The Odessa American
A bus full of state prisoners skidded on an icy patch of road just west of Odessa, Texas, and collided with a passing train, resulting in at least ten fatalities. 
The bus was traveling from a prison in Aberdine to one in El Paso when it crossed an icy overpass. Its wheels lost traction and it flipped over the guardrail and into an embankment before landing on a moving Union Pacific freight train. The two train employees were not harmed in the accident.
Eight prisoners and two corrections officers were killed in the crash, reports the AP. Five people were taken to the hospital with unknown injuries.