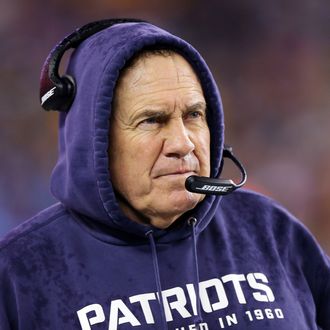 Bill Belichick
Photo: Elsa/Getty Images
For the second time in a decade, Bill Belichick's New England Patriots have been caught up in a high-profile cheating scandal. This time, they're accused of deflating the balls they used on offense during Sunday's AFC Championship Game in order to make them easier to throw and catch. But where does the combination of Sunday's incident and 2007's Spygate rank the Pats among other teams that famously bent or broke the rules to win? Here, the five ballsiest cheaters in team-sports history.
5. 2001 Rolando Paulino All-Stars
Bronx pitching phenom Danny Almonte appeared to be one of the most dominant hurlers in Little League World Series history, throwing a perfect game during round-robin play and striking out 62 of the 72 batters he faced in the tournament en route to a third-place finish. But a Sports Illustrated investigation uncovered the secret to his success: He was 14 years old, not 12, as his falsified Dominican birth certificate said he was.
4. The Bill Belichick–era New England Patriots
The NFL is still investigating what exactly the Patriots did on Sunday, when 11 of the 12 balls that had been reviewed by officials earlier in the day were later found to be underinflated, thus making them easier to throw and catch in rainy weather. (Belichick said today that he was "shocked" to hear reports aboout underinflated balls and denied any knowledge of the situation.) And while they may not be the first to doctor footballs to suit their quarterback's preferences, the Pats aren't likely to be cut any slack by their fans, considering the team is also responsible for the Spygate scandal, in which they secretly videotaped an opposing coach's defensive signals.
3. 1951 New York Giants
The team responsible for one of the greatest moments in sports history was also responsible for one of the most elaborate cheating schemes. Sign-stealing has a long history in baseball, but the Giants weren't just using base runners to signal what the pitcher was about to throw. Using a telescope in the team's centerfield clubhouse, someone would relay the upcoming pitch to the bullpen using a buzzer system, at which point someone else would give a sign to the hitter to tell him what to expect. Bobby Thomson, however, forever maintained that he didn't know what pitch was coming when he hit his famous "Shot Heard Round the World."
2. East German Olympic Teams
The last two decades of Major League Baseball have seen countless players use performance-enhancing drugs in an attempt to gain an edge. And sometimes, doping isn't limited to individual players acting on their own: The U.S. Postal Service pro cycling team ran a sophisticated program in the 1990s and 2000s. But nothing compares to the widespread, systematic doping program that existed for decades on the East German Olympic teams. Athletes were given powerful anabolic steroids, sometimes without their knowledge and after being told by team officials they were vitamins. The secret doping program led to incredible success during competition, particularly during the 1976 and 1980 Summer Games, but also to serious health issues down the line for more than 800 athletes.
1. 2000 Spanish Paralympic Basketball Team
Spain won gold in the intellectual disability tournament at the 2000 Paralympic Games, but later that year, one of the team members admitted that he and many of his teammates had no mental handicap. Ten of the team's 12 members posed as disabled by using fake medical certificates, and the player who came forward said the only test he was asked to complete at his first training session was six press-ups. The team was ordered to return its gold medals, and the head of the Spanish Federation for Mentally Handicapped Sports was later found guilty of fraud by a Madrid court.