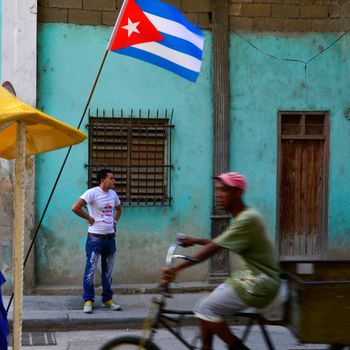 Photo: Raul Touzon/National Geographic Society/Corbis
Cuba is officially back on the map for U.S. travelers. A month after the Obama administration reestablished relations with the island nation, the long-standing travel ban for Americans has been greatly eased. Under new rules from the Commerce and Treasury departments, which go into effect today, Americans won't have to apply for a government license to engage in purposeful travel to Cuba. (The government does not consider your desire to vacation like Beyoncé and Jay Z a legitimate reason to visit Cuba.) Here are a few things you should know before you start planning your trip.
1. You still need a reason to visit Cuba, but you don't need a specialized government license.
Previously, Americans had to apply for a specialized government license that said they had a specific reason for visiting Cuba. U.S. travelers must still fall into one of 12 authorized categories, but they only need a general license. "A general license is not a physical piece of paper, like the specialized license is — it's basically a presumption that you fit one of those categories," Julia Sweig, an expert and author on Cuba told the Washington Post. "It's like the government is giving citizens the benefit of the doubt from now on."
Essentially, Americans can self-certify that they are visiting family; on official government business; working in journalism; conducting professional research or attending meetings; visiting for educational purposes; visiting for religious purposes; participating in a clinic, performance, or competition; pursuing humanitarian projects; working on behalf of a private foundation or research institution; in the import/export game; or offering "support for the Cuban people."
With a little imagination and chutzpah any American can squeeze themselves into one of those categories, but it could be risky. When the Miami Herald asked how the government will prevent people from fibbing their way into Cuba, a senior administration official suggested there may be audits. "They will have to keep records and documents," the official said. "It's a violation of U.S. law for a traveler to disregard the travel categories."
2. Booking tours and flights will be less of a hassle.
With the exception of Cuban-Americans, journalists, and business travelers, for the time being most authorized Americans will still need to book trips as part of an organized group. "So a couple cannot go to Cuba to educate themselves on a subject like Cuban music," Robert L. Muse, a lawyer experienced in U.S. laws regarding Cuba, told the New York Times. "They can only go under the auspices of an organization that arranges a structured educational trip." However, since travel companies won't need to obtain specific licenses from the government, booking trips should become easier and less expensive.
Currently Americans can only reach Cuba directly from the U.S. via chartered flights, but in the future they may be able to go online, tick a box that says they're traveling for an approved purpose, and book a seat on a commercial flight. According to Reuters, Delta Air Lines and JetBlue Airways said they're interested in providing regular service from the U.S. to Cuba. On Thursday United Airlines said that if both governments approve, it wants to have commercial flights to Cuba from Newark, New Jersey, and Houston, Texas.
3. You can pay with plastic (soon).
In the past, Americans who managed to make it to Cuba without government approval (such as by traveling from Canada or Mexico) faced a tricky situation when it came to financing their trip. U.S. citizens were prohibited from spending money there and could be fined $65,000 if caught. There were also limits on how much authorized travelers could spend per day, and U.S. banks and credit card companies were prohibited from doing business on the island.
Under the new regulations, U.S. travelers can spend as much as they want, and financial companies can begin operating in Cuba to help them do so. That means U.S. credit and debit cards can be used in Cuba, theoretically — it will probably be some time before there's anywhere to swipe your card.
4. You can bring back $400 in Cuban goods.
Unfortunately, only a quarter of that amount — $100 — can go toward some of the most prized Cuban products: alcohol and cigars.
5. You may be ready to go to Cuba, but Cuba might not be ready for you.
Being cut off from most U.S. travelers for more than five decades did not leave Cuba with a robust tourism industry. It's unclear if Cuba has enough hotels, restaurants, taxis, rental cars, etc. to support a large influx of Americans. According to the Washington Post, "The main terminal at Havana's international airport has just four baggage carousels, and lines to get through security can be so long that flights are delayed." And the AP notes that the hotels Cuba does have "generally fall short of international standards."
"American tourists are really demanding," said Maikel Gonzalez, a 34-year-old hotel receptionist. "How do I explain to one that the taxi didn't come because it doesn't have tires or that there's no water in the rooms?"