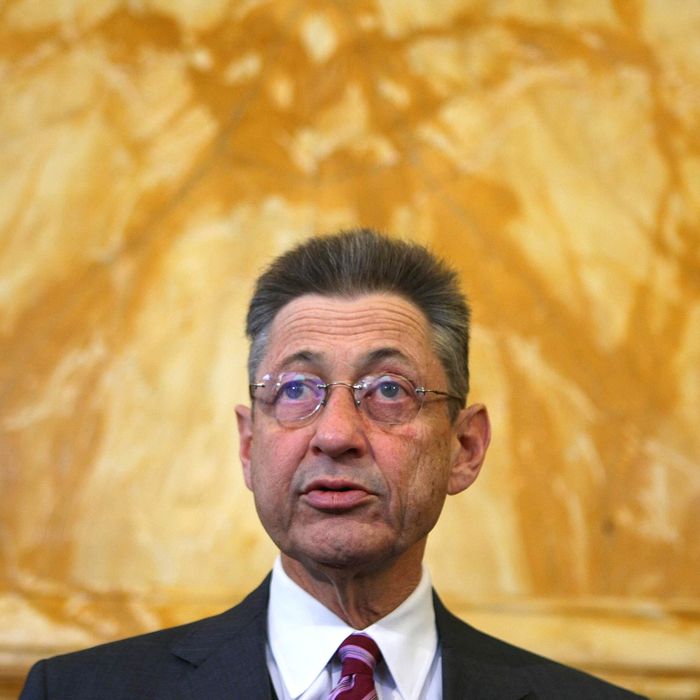 Photo: Daniel Barry/2008 Getty Images
The ouster of Sheldon Silver as speaker of the New York State Assembly this week sent shock waves through Albany and kicked off a "messily uncertain — and in some ways hopeful — new era," as New York's Chris Smith put it. Silver ruled the legislature since 1994, in some cases single-handedly preventing measures from moving forward, for reasons that were clear only to him. While lawmakers are still picking up the pieces — a new speaker won't be elected until February 10 — we already know that the politics have shifted on a number of issues. Here's a look at what Silver's departure could mean for the state.
MMA may be legalized.
New York is the only state in the country where professional mixed martial arts is illegal, and that's mainly due to Silver. For the past five years, the state Senate has passed a bill to legalize it, but Silver wouldn't allow a vote in the Assembly. While the former speaker "does not personally approve of MMA," according to a spokesman, many believe his union affiliations were the real reason behind the ban. The Culinary Workers Union Local 226 of Las Vegas has waged war against UFC co-owners Lorenzo and Frank Fertitta because their casinos and hotels aren't unionized. The Wall Street Journal reports, "UFC has tried to work behind the scenes, but it has more or less been told that the price of getting into New York is to bow to the culinary union."
Assembly Majority Leader Joseph Morelle, who is serving as interim speaker and may succeed Silver permanently, sponsored a bill to legalize MMA. When it failed last summer, he said, "With each year that goes by we continue to build support for the legalization of MMA in New York State, and I am confident that it is only a matter time until this legislation passes in the Assembly."
The DNC may not be coming to Brooklyn.
New York is currently competing with Philadelphia and Columbus, Ohio, to host the 2016 Democratic National Convention, and the arrest of one of the state's top Democratic lawmakers probably isn't helping our chances. "What is happening with Shelly just highlights corruption in New York — and is not the right message," a party officer familiar with the selection process told the Daily News. "It's not the image that the Democratic Party would want to cultivate." To make matters worse, Leonard Litwin, whose company Glenwood Management is believed to be "Developer 1" in the criminal complaint against Silver, is on the 119-member convention host committee. He has not been charged with any wrongdoing, but still, it's not making the Barclays Center look more attractive.
Teachers unions may not be able to block Cuomo's education reforms.
Sheldon Silver was the teachers unions' biggest ally in Albany, and his arrest came less than 24 hours after Governor Andrew Cuomo proposed an ambitious education reform plan in his State of the State address. In exchange for increases in school funding, Cuomo wants to increase the weight of state testing in teacher evaluations, introduce a tax credit for donations to public and private schools, and increase the cap on charter schools by 100. Silver's opinion on revamping teacher evaluations was unclear, but he opposed the education tax credit and increasing the number of charter schools.
Without Silver's support, the teachers unions have a tough fight ahead of them. "You might say the chessboard's aligned against us," said Michael Mulgrew, president of the United Federation of Teachers. "But all I will say is, we're here because we chose to make a difference in children's lives, and we're not going to stop.
Tort laws may be updated.
Throughout his two decades as speaker, Silver was the biggest roadblock to efforts to enact tort reform in New York. One notable example is the Scaffold Law, an 1885 law that makes property owners and contractors liable for any "gravity-related" injuries at construction sites. Assembly Majority Leader Joe Morelle has proposed legislation that would amend the law "by applying comparative negligence standards to a recalcitrant worker." However, Silver repeatedly blocked efforts to let juries consider whether workers were partly to blame for accidents on the job.
It was often noted that as an attorney with a personal injury law firm, Silver stood to profit from keeping the law in place, but he strongly denied that there was any connection. "I don't think it's a conflict," Silver angrily snapped at reporters in 2003. "How many times do you want to hear this?"
Albany may finally see some ethics reforms.
Silver's ouster sparked calls to reform the shady Albany culture in which he thrived, from both inside and outside the legislature. Assembly Democrats revolted this week when they learned of Silver's plan to temporary appoint a group of five lawmakers to serve as speaker, and on Thursday 23 Democratic members of the Assembly wrote a letter to the candidates to replace Silver questioning them on their plans for reform. "While recent events and allegations have been troubling to say the least, this upcoming race for Assembly speaker presents a vital opportunity to present a reform-minded approach," said he statement.
Reforms being discussed include introducing term limits, giving members more say in what bills get a vote, and banning or limiting outside income. Barbara Bartoletti, legislative director for the League of Women Voters of New York State, who was a special adviser to the anti-corruption Moreland Commission, told the New York Times she hopes Silver's arrest will change Albany for good. "The eternal optimist in me says this event may be the tipping point needed and they will finally do something on ethics reform," she said.