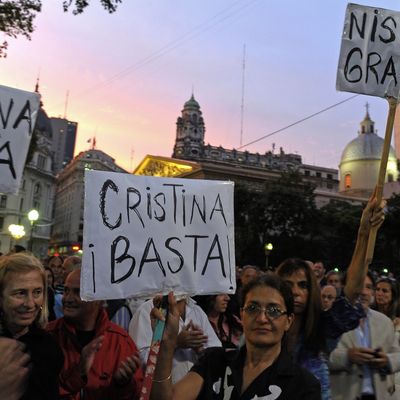 Photo: ALEJANDRO PAGNI/AFP/Getty Images
If you're missing "Serial," Buenos Aires has you covered. Argentine prosecutor Alberto Nisman, who was set to present evidence in a criminal complaint against President Cristina Fernández de Kirchner, was found dead in his Buenos Aires apartment on Sunday. According to Argentine newspaper La Nación, Nisman's mother discovered his body in the bathroom of his apartment after a locksmith let her into the building. He'd been shot in the head.
The discovery came just hours before Nisman was set to appear at a congressional hearing. He'd amassed evidence against de Kirchner, claiming she refused to blame Iranian officials for the 1994 bombing of the AMIA Jewish Center in Buenos Aires. According to Nisman, de Kirchner denied Iran's involvement because Argentina was in an energy crisis and needed to trade grain for Iran's much-needed oil. The AMIA attack occurred in July of 1994, when a truck full of explosives drove into the Jewish center and exploded, killing 85 people. No one was imprisoned.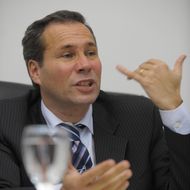 De Kirchner denied the charges, and Minister of Foreign Relations Héctor Timerman said Nisman's accusations contributed to the "confusion and paralysis prevailing in the case." In a statement released on her official website Monday, de Kirchner lamented that "AMIA is once again a source of tragedy, confusion, and lies." She called Nisman's death a suicide and recounted her efforts to shed light on the attack 20 years ago.
But today, de Kirchner released a second statement calling Nisman's death "the suicide that (I'm convinced) is not a suicide." She wrote that Nisman's report, which was released to a judge yesterday, contained false information. For the most part, her statement is speculation; "I don't have proof, but I don't have any doubts," she wrote. De Kirchner accused foreign parties of planting false information in Nisman's report. "They used him, and then they needed him dead. It's that sad and terrible."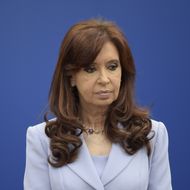 Sketchy evidence has thrown the case deeper into confusion. On Tuesday, forensic reports found no gunpowder on Nisman's hands. Then the locksmith who'd let Nisman's mother into the apartment reported that a service door had been left unlocked in the building.
De Kirchner's presidency, and her husband Nestor Kirchner's before her, has been controversial. She's continued the doctrine of "kirchnerismo," which places focus on nationalism and the working class. Under Cristina, import taxes have risen, trade unions have become more powerful, and the state has gained tighter control over media.
Her supporters and detractors are polarized, and Nisman's death in the wake of his accusations has added fuel to anti-Kirchner sentiment. On Monday, protests broke out across the country.