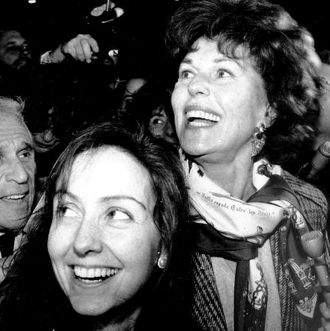 Bess Myerson occupied three roles in her New York life, which ended last month (far off, in Santa Monica) at the age of 90. In 1945, she became the first Jewish Miss America — incredibly, she is still the only one — and thus a heroine to a whole generation of non-blonde teenagers whose "ethnic" looks would have eliminated them long before the swimsuit competition. That led to a nice little TV career, as a game-show model and presenter.
She had aspirations to something bigger, though, and her second role was in politics, beginning with a consumer-affairs post under John Lindsay. She reached her zenith of influence in the administration of Ed Koch, where she ran the Department of Cultural Affairs but also functioned as his hostess — essentially the First Lady to the unmarried mayor. You can argue that she was a real asset to him for her political savvy, or that she kept the questions about his sexuality from growing too loud. But she definitely had made the jump to a career of actual substance, and in 1980 went so far as to run for the Senate. (She lost in the Democratic primary, to Elizabeth Holtzman; Al D'Amato got the job.) She wanted to be taken more seriously than your average pageant queen, and she was.
Her third role, though, took the shine off the first two: central figure in a scandal that involved preferential treatment for her boyfriend from a judge named Hortense Gabel, in exchange for a sinecure for Gabel's daughter Sukhreet. It was seamy, old New York machine politics at work, and although Myerson was acquitted at trial, her reputation never recovered from what was called the Bess Mess. (She got picked up for shoplifting in those years, too.) 
For a person who clearly appreciated a spotlight, she took the hardest route out of scandal: She disappeared. The Times, in its obituary today, noted that she died in mid-December, with no press coverage, the fact of her passing discovered only weeks later via public records. Hers was a dignified response to an undignified scandal — one that suits her first, path-breaking role, and maybe elevates it.