Photo: Stan Honda/AFP/Getty Images
At around 11 p.m. on Monday, anyone with access to a window was starting to realize that the "historic" Blizzard of 2015 was actually just a regular storm. And, by the time Tuesday morning press conference rolled around, New Yorkers had plenty of questions about why, exactly, the whole city had been shut down over 12 inches or so of snow. Governor Cuomo and Mayor de Blasio have defended their actions with various permutations of "better safe than sorry," if only because they have no other choice. While history gets to work on judging them, here's a look at how New York's over- and under-preparation for six big storms played out.
The incident: Hurricane Isabel, September 18–19, 2003
Preparations: About two days before Isabel's arrival in New York, Governor George Pataki ordered residents to stock up on gas, three days' worth of food and water, and enough prescription medication to get through a week, and the National Guard made "preliminary preparations for possible missions in support of communities across New York State." 
The New York Times reported that the NYPD "designated captains and inspectors as hurricane coordinators and ordered them to identify potential evacuation routes and relocation centers," and Mayor Michael Bloomberg told the public to "take the precautions now and not wait until the last day." "Make sure you have a few days supply of baby products and medicines and things that you absolutely can't do without," he said. "If the storm hits, and even if it misses us closely, we're likely to have flooding in the normal places that flood."
What happened: Isabel ended up being the 2003 season's worst hurricane, causing $5 billion in damage and 55 deaths from South Carolina to Maine. New York avoided the worst of the storm, though downed trees, sporadic power outages, and other hurricane-related issues still cost the state at least $45 million.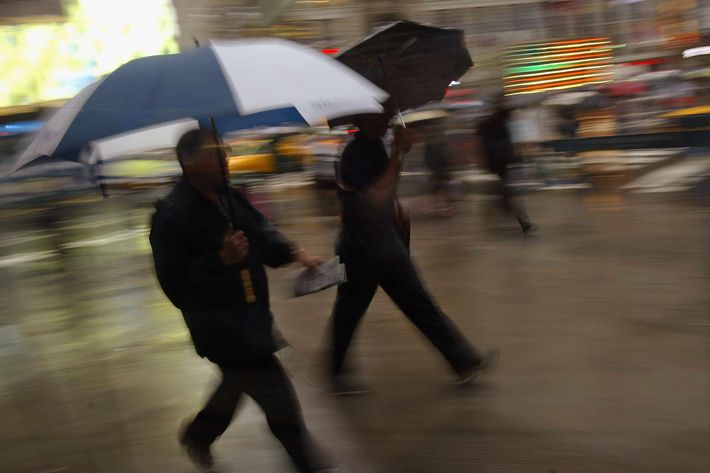 The incident: Hurricane Frances, September 8, 2004
Preparations: Frances "battered" Florida and the Bahamas for days, doing $3 billion worth of destruction, but forecasters failed to predict that the storm could affect New York, so Pataki and Bloomberg did not issue any warnings about it. 
What happened: What was left of Frances took New York by surprise, causing a torrential downpour on the morning of September 8. The subway system filled with water, leaving "hundreds of thousands of commuters stranded, many in sweltering [stations] and aboard trains stopped by flooded tracks," according to the New York Times. Straphangers were forced to make their way on foot, and several buildings in Soho had to be evacuated.


The incident: The Nor'easter of February 11–12, 2006 
Preparations: New York City was ready for this one. The Times reported that before the storm, "Five-thousand workers at the New York City Department of Sanitation were put in place to use about 2,000 pieces of heavy equipment, including 350 salt spreaders and 20 snow-melting machines. About 200,000 tons of rock salt, to help melt the snow, had been stockpiled and was being drawn down from early in the morning." The MTA also canceled all track work in anticipation of a train slowdown. 
What happened: The storm brought the heaviest snowfall in New York City history: 29.6 inches. City workers did 12-hour shifts to clear the roads, with Bloomberg saying, "We will plow the streets and then figure out how to pay for it." Despite the historic amount of snow, public schools, Broadway, and most movie theaters remained open, and there were no electricity outages. "The reason?" the Times explained. "Temperatures in the mid-20's made the snow light and fluffy, not heavy with moisture, so it was blown off trees by winds and did not break off limbs and knock down power lines."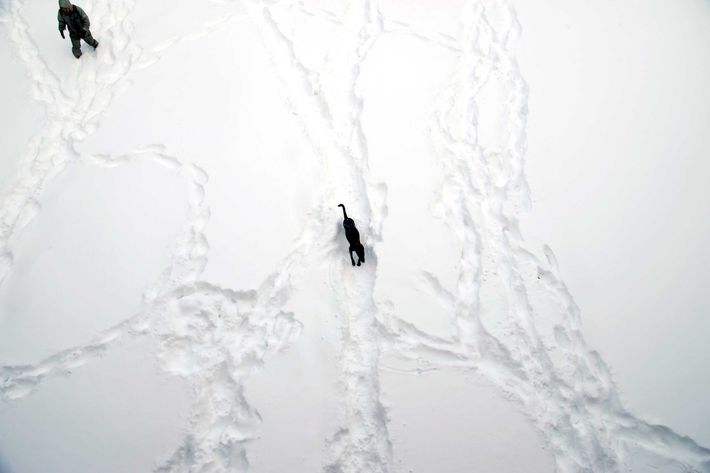 The incident: The Blizzard of December 26–27, 2010
Preparations: Forecasters initially predicted that the storm would bring only about six inches of snow to New York. After light snowfall began on Christmas Day, the National Weather Service realized that the storm might be bigger than expected and issued a warning. "Once the forecast was upgraded, city agency commissioners and their deputies joined an OEM conference call with the forecasters. Mayor Bloomberg did not participate and officials refused to say if he was in town. They said he was in 'regular contact' with city officials over the weekend, a spokesman said," the New York Daily News reported. "Despite the more-menacing forecast, administration officials decided not to declare a citywide snow emergency." Oops. 
What happened: The multi-day storm dumped 20 inches of snow on New York, making it the city's sixth-largest snowfall ever. The MTA continued to run, but service was not good: Hundreds of trains and buses got stuck in the snow. (500 riders were infamously stranded for hours on a freezing A train.) Abandoned and broken-down cars littered the roads.
"Sanitation officials, charged with clearing streets, were short-staffed due to Christmas and stuck with virgin drivers overwhelmed by the driving snow," the Daily News reported. "Police, firefighters and ambulance crews were blocked from rescuing people trapped in their homes for hours on end." It took five days for things to start to return to normal, and nobody was happy Bloomberg. "We did not do as good a job as we wanted to do, or as the city has a right to expect," the then-mayor admitted.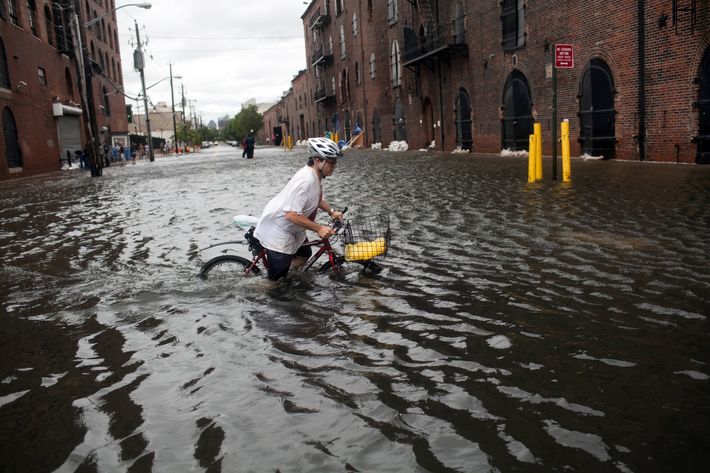 The incident: Hurricane Irene, August 28, 2011
Preparations: As you may recall, New York City was prepared for the absolute worst. Bloomberg ordered the first-ever mass shutdown of the MTA's subways, buses, and commuter rails, and the city forced an unprecedented 300,000 people in flood-prone areas to evacuate their homes. Per the Daily News, "ConEd created contingency plan where flooding could lead them to shut down substations before blackouts occur," the airports closed, and everything that could be canceled was canceled. 
What happened: It was certainly not as bad as it could have been, but it wasn't nothing. While the extreme preparation for Irene made the actual storm feel like a dud, heavy wind and rain caused the East River to breach its seawall in several places in lower and midtown Manhattan, 700 trees were destroyed, and 72,000 people were left without power. But, as Bloomberg put it, "We dodged a bullet there."

The incident: Hurricane Sandy, October 29, 2012
Preparations: There were plenty: MTA service was suspended, hundreds of thousands of mandatory evacuation orders were issued, school and Wall Street trading were preemptively canceled, and the National Guard came to town.
What happened: Those preparations were not enough.