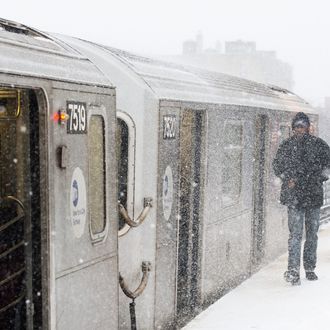 Photo: Don Emmert/AFP/Getty Images
With the Blizzard of 2015 scheduled to hit with full force tonight, officials up and down the East Coast are preparing people to spend some time without access to public transportation (or, in some cases, transportation of any kind).
In a late-morning press conference, Governor Cuomo said that the New York City subway system will begin slowing down at 7 p.m. so that the MTA has time to store the trains underground before the worst of the snow arrives. This afternoon, he said that the subway will stop running entirely at 11 p.m. 
And don't expect to drive your way out of this: New York City buses, which have been equipped with snow tires and chains, will cut service on "a route-by-route" basis as the day progresses. Like the subways, they will stop moving at 11 p.m. Meanwhile, Mayor de Blasio announced that all city streets will close to non-emergency vehicles at 11 p.m. That means no cars, no Ubers, no taxis, and — perhaps most critical — no bikes. "A food delivery bicycle is not an emergency vehicle," de Blasio pointed out. (Har har.)
(Speaking of Uber: Attorney General Eric Schneiderman's office told Capital New York  that it will be monitoring the car service app for signs of price-gouging. This summer, Uber agreed to limit its controversial "surge-pricing" during emergencies and natural disasters, and a Schneiderman representative said that, "The office will be working with Uber to ensure last year's price cap agreement is in full effect." Tonight's maximum Uber price has reportedly been capped at 2.8 times the regular fare.)
And, via DNAinfo: "The lower level of the Manhattan Bridge has been closed off to traffic going to Manhattan until Wednesday morning. Cars going to Manhattan should use the upper level of the bridge. Brooklyn-bound traffic will not be affected." Cuomo said that a travel ban on all Long Island roadways will go into effect at 11 p.m. (Anyone caught violating the state order will be subject to misdemeanor charges and fines of up to $300.) Connecticut Governor Dan Malloy has already issued a travel ban throughout his state beginning at 9 p.m.
Cuomo also said that the Long Island Railroad and Metro-North will run until 11 p.m., with increased trips this afternoon and decreased service early this evening. Those commuter rails will be suspended after that. The PATH will operate normally until 9 p.m., when it will switch to a weekend schedule.
NJ Transit says that all tickets and passes will be cross-honored by the system's buses, trains, and light rails from Monday until Wednesday. However — and this is a big "however" — the agency announced that, "The last trips tonight on all NJ Transit modes of service will be those leaving all major stations and terminals at 8 p.m.," and everything will stop running at 10 p.m. NJ Transit's trains and buses will be suspended throughout Tuesday, and there's no guarantee that they will be running on Wednesday, either.
Amtrak will attempt to brave the storm on a "modified schedule." "Acela Express and Northeast Regional service will operate between Boston and Washington; however, passengers should expect reduced frequencies, mainly north of New York," reports Fox 43. Keystone Service (New York to Harrisburg, Pennsylvania) , Empire Service (New York to Albany), Amtrak Downeaster (Brunswick, Maine to Boston), and the Springfield Shuttle (New Haven to Springfield, Massachusetts) are expected to behave normally, at least for now.
Finally (and obviously), you can probably forget flying anywhere for the next couple days: As of 12:30 p.m. on Monday, La Guardia Airport had canceled 78 percent of flights, while JFK had canceled 50 percent. "American Airlines said it would suspend operations in Philadelphia, Boston and New York late Monday afternoon," reports CNN. "United Airlines has already canceled all Tuesday flights at Newark, LaGuardia and JFK, as well as Boston and Philadelphia, company spokeswoman Mary Ryan said." During a press conference, Cuomo said that "virtually all" Tuesday flights to and from JFK and LaGuardia will be canceled. 
We know that's a lot of information, so here's the takeaway: buy what you need now, go home as soon as possible, and prepare to stay there for a while. 
This post has been updated throughout.