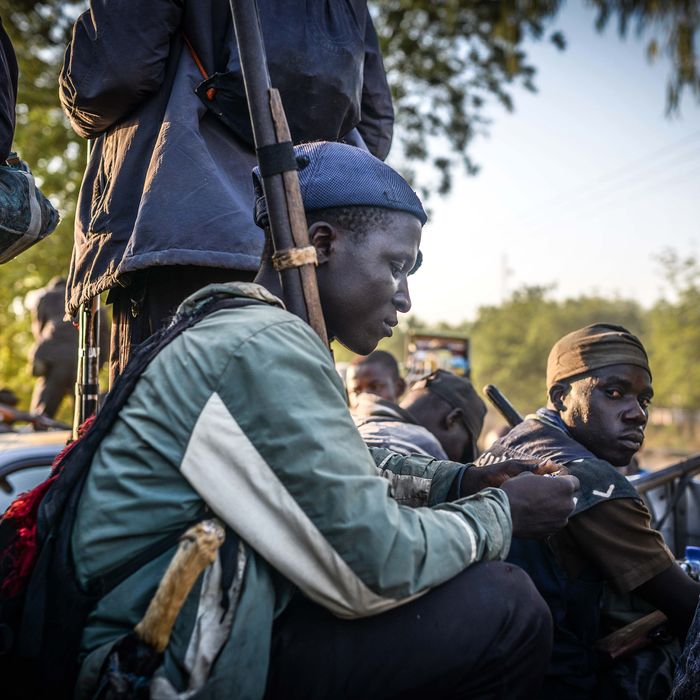 Photo: Anadolu Agency/Getty Images
While world attention focused on a days-long manhunt and subsequent hostage situations in France, Nigeria's Boko Haram terrorist group may have quietly but surely slaughtered hundreds of people in its bloodiest attack to date. The attack happened in Baga, a town on the country's border with Chad.
Though there's no definite death toll, local and international officials say the victims likely number around 2,000. The town had been a last vestige of government rule in the contested area and hosted many international troops, according to NPR. Militants first captured it Sunday. 
The stories of survivors are horrifying. To escape the gunmen, many had to run into a nearby lake. NBC News reports that once in Lake Chad, many scrambled atop sandbars, only to be confronted with grumpy hippos. "These towns are just gone, burned down," local senator Ahmed Zanna told the network. "The whole area is covered in bodies."
While a government spokesperson said that they had conducted air strikes on Boko Haram targets, civilian groups are overwhelmed by what they see on the ground. "The human carnage perpetrated by Boko Haram terrorists in Baga was enormous," said Muhammad Abba Gava, a spokesman for such groups. "No one could attend to the corpses and even the seriously injured ones who may have died by now." Most of those dead are said to be women, children, and the elderly.
All this happens ahead of next month's presidential elections. There has been a years-long struggle between government forces and Islamist militants in some regions of the country, but Nigerian president Goodluck Jonathan has tried to minimize it as an issue in the upcoming election. An estimated 10,000 have died because of fighting in the last year.