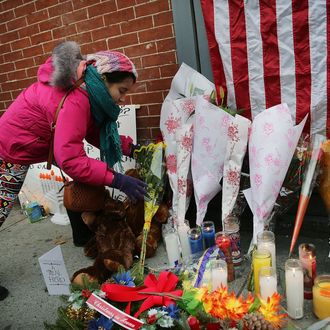 Photo: Spencer Platt/Getty Images
Police commissioner Bill Bratton would prefer not to see a repeat of the attention-stealing protest staged at the funeral of murdered NYPD officer Rafael Ramos, where cops turned their backs on Mayor de Blasio as he spoke. "A hero's funeral is about grieving, not grievance," wrote Bratton in a Friday memo about the upcoming ceremony honoring Ramos's partner, Wenjian Liu.
Bratton went on to call the back-turning "an act of disrespect" that "stole the valor, honor, and attention that rightfully belonged to the memory of Detective Rafael Ramos's life and sacrifice." "I issue no mandates, and I make no threats of discipline," Bratton concluded. "But I remind you that when you don the uniform of this department, you are bound by the tradition, honor and decency that go with it." Liu's funeral isn't until Sunday, so the cops planning to attend should have plenty of time to mull this one over.