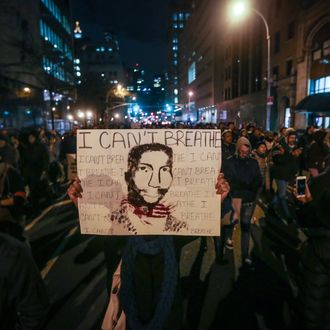 Photo: Cem Ozdel/Anadolu Agency/Getty Images
Today's report on chokeholds, the first report of any kind from New York's new inspector general for the police department, highlights how 10 cops cited for using the maneuver between 2009 and 2012 were lightly disciplined, if disciplined at all — even though the NYPD banned the tactic way back in 1993.
The current police commissioner, Bill Bratton, believes better training can give cops better alternatives, and reduce not just the use of chokeholds but the chances of chokehold-related tragedies like the death of Eric Garner. The tactic has persisted for decades, though, because of the messy, unpredictable reality of confrontations between cops and citizens. And Bratton is vehemently opposed to one step, proposed by the City Council — to make chokeholds illegal.
"You cannot make it illegal because then it is really putting cops at risk," Bratton told me in December. "Because there's going to be times when they're in one of these street fights, if they feel that they're at risk of losing and they're worried about themselves being overcome. Cops are authorized to use force appropriate to the threat."
And this time cops should have no doubt about whose side Bill de Blasio is on. "Oh yeah, the mayor clearly understands that there are going to be instances where a cop is going to use a chokehold in a life-or-death situation," Bratton says. "In that case, anything goes."