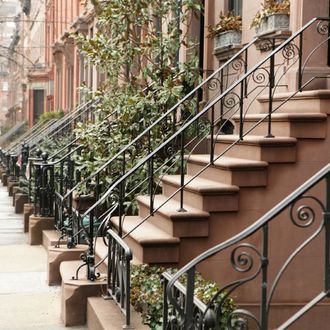 As Manhattan goes, so goes Brooklyn. That's the word from fourth quarter real-estate market reports released today. According to the brokerage firm Douglas Elliman, the borough has broken records with its year-to-date average ($739,610, up from $674,272 in 2013) and median ($570,220, jumping from $550,000) prices. "Those are the highest [numbers] since 2003," says appraiser Jonathan Miller, the report's author who started tracking Brooklyn trends that year. This despite a slight dip — 3.1 percent — in transactions compared to the same period in 2013 and inventory rising by a meaningful 41 percent. In fact, says Miller, the gap between Manhattan and Brooklyn prices continues, on the whole, to thin out, a sign that buyers are increasingly less defined by borders and more by neighborhoods. An Astoria apartment-hunter may be just as likely to pick Hell's Kitchen or Cobble Hill. In Park Slope, a mansion made headlines for selling in November for a record-setting $10.775 million, a number that's typically associated with Manhattan houses.
Meantime, Queens rode out a tempestuous year with hefty increases in both median ($430,475, a 15.5 percent spike) and average ($492,217, up by 14.1 percent) sales prices. Nonetheless, there were 22.5 percent fewer deals made in the last three months of the year. Miller says Long Island City is strong and competes with some Manhattan and Brooklyn neighborhoods, but many places in both boroughs still have some catching up to do.
Nonetheless, buyers seem increasingly less compelled — limited? — by borough loyalty. "The tremendous housing upgrade that [the city] has undergone in the last couple of decades now is coming to a head," explains Miller. "[There's] borough creep … The whole market is undergoing this 'spreading out' phenomenon, and the search for affordability is driving it." He says these days, developers aren't nearly as worried about building in emergent neighborhoods since buyers are more flexible about where to live and aren't nearly as hemmed in as before by the need to stay within a certain borough. They're more concerned about how to make a profit, given how "land is wildly expensive and you have to build for a very targeted area niche. It's not a locational risk but product risk."
The cost of land, labor, and construction is superseding concerns about whether buyers would leave their comfort zones to purchase, agrees Leonard Steinberg, president of Urban Compass, which hosted a "Future of Real Estate" event today with developers Aby Rosen and Paul Parisi, and architect Annabelle Selldorf. "Prices have reached a point where the [East] River has almost evaporated. It's like Moses came to Manhattan and took the water out and [the boroughs] are very connected."
"Brooklyn used to be the low-cost alternative to Manhattan but the numbers have so clearly shifted now," says Vishaan Chakrabarti, a partner at SHoP Architects and director of the Center for Urban Real Estate at Columbia University, who moderated the event. Though he believes there's still some borough loyalty left among buyers, "our cognitive map as New Yorkers has expanded. We think about the city fundamentally differently than we did a decade ago."
As for rentals, Manhattan landlords look to have smartened up last quarter and were quicker to offer small, but still appealing, concessions like one month's rent or broker commissions paid — at least compared to the same period in 2014, says Citi-Habitats president Gary Malin. His firm found that nearly 10 percent of rentals last quarter came with an incentive. The average Manhattan apartment in December was $3,381 a month. (The overall average for 2014 was a record $3,438.)
In the meantime, Brooklyn's not too far off, either, with the average at $3,139 a month, per Elliman's survey. Queens has friendlier rents, but not by much, with an average monthly rent at $3,015.