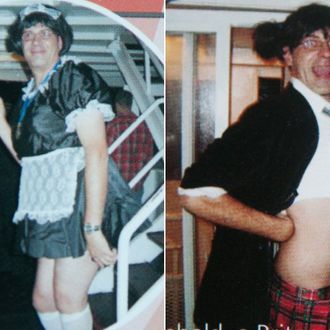 Sean Shaynak, the math and physics teacher at Brooklyn Tech High School who was charged in August for a host of sex crimes against students, is now the subject of a new lawsuit launched against the city by another former student.
Filed by an of-age female student against the Department of Education on Saturday, the lawsuit alleges that Brooklyn Tech principal Randy Asher and various other administrators knew that Shaynak was a total creep, but refused to do anything about it. The student, known only as "V.V.," claims she had a sexual relationship with Shaynak that began when he ripped open his overcoat to expose himself to her. Shaynak then began sending sexually explicit text messages to her and asking whether they could become "boyfriend and girlfriend," according to the Post. He also took her to "X-rated joints where he had V.V. watch him 'perform and receive oral sex with other males.'"
During one especially harrowing night, the student alleges Shaynak was driving her to a Halloween party when they began arguing about their relationship. He began screaming and driving erratically, causing V.V. to fear for her life. When he pulled over the car to urinate, she slipped out of it and escaped, crawling through some bushes as he searched for her and screamed about how she was a bitch.
The suit is the first filed against the city implicating the DOE for its inaction regarding Shaynak's behavior. Back in August, Shaynak was accused of Snapchatting a 16-year-old student a picture of his dick, and in September, six more students spoke up about being abused by him.
Shaynak is now facing a 36-count indictment that alleges sexual abuse against students ages 13 to 19. The indictment accuses Shaynak of a host of terrible crimes, including taking a 15-year-old to a nude beach, plying students with cigarettes and alcohol, performing a sexual act on an 18-year-old without consent, and kidnapping.
And if you thought this guy couldn't get any worse, Shaynak also once allegedly beat up an 11-year-old kid. A criminal charge was filed, but it was eventually expunged.
The suit is seeking unspecified damages for violations of Title IX.