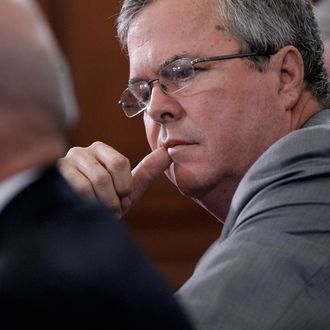 Photo: Chip Somodevilla/2012 Getty Images
Gay couples in Florida began marrying on Monday following a court decision striking down the state's same-sex-marriage ban, and Jeb Bush marked the occasion by tweaking his noncommittal stance on the issue. When asked about the issue while exiting a golf course on Sunday, Bush appeared to be opposed to the state judge's ruling. "It ought be a local decision. I mean, a state decision," he said, "The state decided. The people of the state decided. But it's been overturned by the courts, I guess." However, when asked today if he supports challenging the ruling, Bush told the New York Times, "regardless of our disagreements, we have to respect the rule of law."
Bush issued this statement:
We live in a democracy, and regardless of our disagreements, we have to respect the rule of law. I hope that we can show respect for the good people on all sides of the gay and lesbian marriage issue – including couples making lifetime commitments to each other who are seeking greater legal protections and those of us who believe marriage is a sacrament and want to safeguard religious liberty.
The former Florida governor has always personally opposed gay marriage, but in recent years he's said too many people see Republicans as anti-gay, and expressed sympathy for gay parents. "I don't think people need to be discriminated against because they don't share my belief on this, and if people love their children with all their heart and soul and that's what they do and that's how they organize their life that should be held up as examples for others to follow because we need it," he told Charlie Rose in 2012.
Like many politicians, Bush's tone on gay rights used to be much more harsh. On Monday BuzzFeed unearthed an editorial Bush wrote in 1994, during an unsuccessful gubernatorial campaign, in which he responded to a Miami Herald piece that called him a bigot for his views on homosexuality. While Bush argues against discriminating against homosexuals, he concludes, "should sodomy be elevated to the same constitutional status as race and religion? My answer is No. We have enough special categories, enough victims, without creating even more."
Bush said the language he used in the editorial no longer reflects his thoughts on homosexuality. "Gov. Bush believes that our society should have a culture of respect for all people, regardless of their differences, and that begins with preventing discrimination, including when it comes to sexual orientation," said spokeswoman Kristy Campbell. "This opinion editorial from 20 years ago does not reflect Gov. Bush's views now, nor would he use this terminology today."