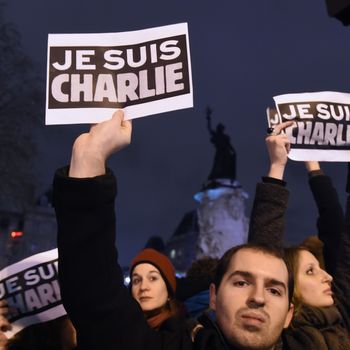 Photo: Dominique Faget/AFP/Getty Images
Just over three years ago, the office of Charlie Hebdo, the French satirical magazine whose staff was horrifically murdered, was firebombed. Time's Paris bureau chief, Bruce Crumley, responded to the attack at the time with an outpouring of anger and contempt — mostly aimed at the target of the attack. "Okay, so can we finally stop with the idiotic, divisive, and destructive efforts by 'majority sections' of Western nations to bait Muslim members with petulant, futile demonstrations that 'they' aren't going to tell 'us' what can and can't be done in free societies?" he began, "Because not only are such Islamophobic antics futile and childish, but they also openly beg for the very violent responses from extremists their authors claim to proudly defy in the name of common good." Yes, Crumley carefully noted, terrorism is bad, too. But his primary villain was the satirical magazine that provoked the attacks.
The latest attack, which (unlike the previous one) succeeded in killing large numbers of people, casts the question in a different light. In the wake of actual (and not merely potential) bloodshed, few of us are willing to blame the staff of Charlie Hebdo for provoking their own murders. The trouble is that Crumley's 2011 outburst is not just embarrassing today, it also lies uncomfortably close to the mainstream Western liberal view.
Consider, for instance, the official view of the Obama administration, as expressed by White House spokesman Jay Carney in 2012, when asked about Charlie Hebdo's blasphemous cartoons depicting Mohammed:
Well, we are aware that a French magazine published cartoons featuring a figure resembling the Prophet Muhammad, and obviously, we have questions about the judgment of publishing something like this.  We know that these images will be deeply offensive to many and have the potential to be inflammatory.  But we've spoken repeatedly about the importance of upholding the freedom of expression that is enshrined in our Constitution.

In other words, we don't question the right of something like this to be published; we just question the judgment behind the decision to publish it.  And I think that that's our view about the video that was produced in this country and has caused so much offense in the Muslim world.

Now, it has to be said, and I'll say it again, that no matter how offensive something like this is, it is not in any way justification for violence — not in any way justification for violence.  Now, we have been staying in close touch with the French government as well as other governments around the world, and we appreciate the statements of support by French government officials over the past week, denouncing the violence against Americans and our diplomatic missions overseas.
Carney put it more delicately, but his actual line did not stray very far from Crumley's:
It's obvious free societies cannot simply give in to hysterical demands made by members of any beyond-the-pale group. And it's just as clear that intimidation and violence must be condemned and combated for whatever reason they're committed — especially if their goal is to undermine freedoms and liberties of open societies. But it's just evident members of those same free societies have to exercise a minimum of intelligence, calculation, civility and decency in practicing their rights and liberties—and that isn't happening when a newspaper decides to mock an entire faith on the logic that it can claim to make a politically noble statement by gratuitously pissing people off.
Indeed, a columnist in the Financial Times continues to hold to this line ("Charlie Hebdo has a long record of mocking, baiting and needling French Muslims. If the magazine stops just short of outright insults, it is nevertheless not the most convincing champion of the principle of freedom of speech. France is the land of Voltaire, but too often editorial foolishness has prevailed at Charlie Hebdo"). On the one hand, religious extremists should not threaten people who offend their beliefs. On the other hand, nobody should offend their beliefs. The right to blasphemy should exist but only in theory. They do not believe religious extremists should be able to impose censorship by issuing threats, but given the existence of those threats, the rest of us should have the good sense not to risk triggering them.
The line separating these two positions is perilously thin. The Muslim radical argues that the ban on blasphemy is morally right and should be followed; the Western liberal insists it is morally wrong but should be followed. Theoretical distinctions aside, both positions yield an identical outcome.
The right to blaspheme religion is one of the most elemental exercises of political liberalism. One cannot defend the right without defending the practice.