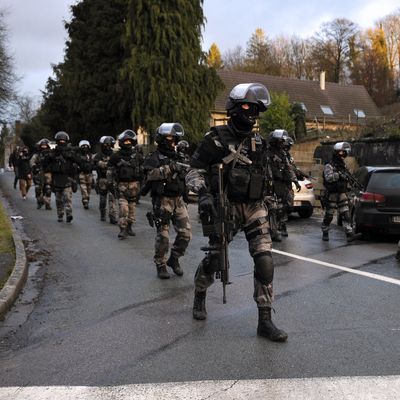 Photo: AFP PHOTO / FRANCOIS LO PRESTI
The hunt for Said and Cherif Kouachi, the suspected gunmen in the terrorist attack on the French satirical newspaper Charlie Hebdo, continued on Thursday in a rural area of northern France. French special forces combed Villers-Cotterêts and nearby towns after men matching the brothers' description stole food from a gas station and the car they used to flee Paris was found abandoned in the area. As the brothers continued to elude police, authorities confirmed that they have some tie to a larger terrorist group. U.S. officials said the older brother, Said, traveled to Yemen in 2011, where he was trained by Al Qaeda's affiliate there.
Immediately after the attack, it was unclear why one suspect told a witness, "You can tell the media that it's al Qaeda in Yemen," since the brothers had only been linked to a domestic terror cell. In 2008 Cherif was convicted on terror charges because of his involvement with a group recruiting French Muslims to fight against U.S. forces in Iraq, but he was arrested before he made it out of France.
On Thursday a senior American official told the New York Times that Said spent "a few months" being trained in weapons and other skills in Yemen. While Said has never been prosecuted and only "appeared on the periphery of judicial cases" involving Cherif, he's now considered the "aggressor" in the case, according to French interior minister Bernard Cazeneuve.
French and American officials knew that Said had trained in Yemen, and both brothers were listed in U.S. no-fly lists and databases of suspected terrorists for years. Cazeneuve said that though they were watching them, in recent years, "No element that could have led to the launch of a judicial probe had come to our attention."
The brothers' ties to Yemen's Al Qaeda affiliate are still being investigated, but so far there is no evidence that the group ordered the attack. "We know they were inspired," a U.S. official told The Wall Street Journal, "but we do not know the extent they were associated with al Qaeda."