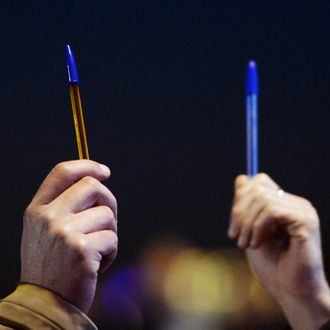 Photo: Boris Horvat/Getty Images
Charlie Hebdo will publish on Wednesday, despite the murder of eight of its employees. It will, of course, not exactly be business as usual: The weekly newspaper, which typically has a circulation of about 60,000, plans to print one million copies of its next issue. And the issue will be 8 pages long, as opposed to the normal 16. 
From The Guardian: 
Google said it would donate €250,000 (£195,000) to help support the publication from its press innovation fund; a further €250,000 was pledged by French newspaper publishers, to be taken by a donation tax, according to a report in Les Echos.

The two groups involved in the distribution of the papers will take no fee for next week's issue.
"It's very hard," said Charlie Hebdo contributor Patrick Pelloux. "We are all suffering, with grief, with fear, but we will do it anyway because stupidity will not win." The paper's remaining staff will also receive help from their fellow journalists, if needed. Martin Rowson, the head of the British Cartoonists' Association, has asked his colleagues to donate drawings for the forthcoming issue. Given the outpouring of cartoons and other artistic tributes in the wake of the shooting, it seems likely that others will do the same.