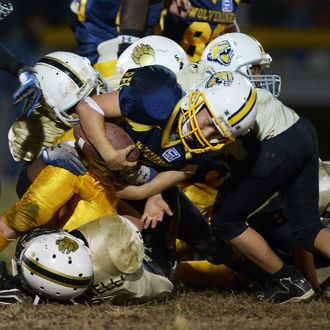 Photo: Toni L. Sandys/The Washington Post via Getty Images
The New York City Council is considering a bill that will require doctors to be present at all pee wee football games, so that youngsters can be screened for concussions on the spot and receive proper medical treatment. The legislation would bring youth football regulations up to par with high school athletics, and also require a doctor or a trainer at full-contact practices.
Friday's hearing on the Youth Football Safety Act, introduced by councilmember Stephen Levin, included testimony from medical professionals and professional trainers.
"It's too common that kids are taught that getting your bell rung is OK and you need to play through it," said city councilmember Corey Johnson, who was once best known for coming out to his high school football team. "Repeated concussions can cause lifelong health injuries especially when the brain does not have time to heal."
Of course, the issue is not wholly simple for the roughly 70 tackle football leagues in the city. While doctors at tackle football games would keep players safer, they're also expensive — $100 a game, while trainers charge $35 an hour. "We have concern that bill would have chilling impact on programs in poorer neighborhoods," said first deputy Parks Department commissioner Liam Kavanagh. If adopted, the total cost of these new rules may come out to as much as $1 million annually.