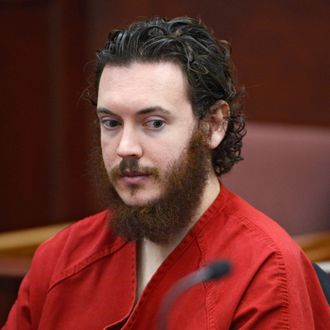 Photo: Andy Cross/Pool/Reuters/Corbis
His bright-orange hair may have grown out and been cut off, but it's still no easier to find a jury to try Aurora, Colorado, movie theater shooter James Holmes, who may be facing the death penalty after his trial. More than 9,000 people have been summoned for the trial's jury pool — three times more than the number called in Boston for Dzhokhar Tsarnaev. Holmes's attorneys don't even contest the fact that he was the masked gunman who shot up a movie theater during a showing of The Dark Knight Rises, but say Holmes is not guilty — because he is insane.
The thousands of jury summons mean that nearly one in 50 eligible people in the county is being called for the trial, in a tremendous effort to find someone unaffected by that day's events. Jury selection may last months, but the pool of 9,000 will eventually be whittled down to 12 jurors and 12 alternates. And, like in the Tsarnaev case, the jurors have to be willing to impose the death penalty if they find him guilty. 
Holmes killed 12 people and wounded 70 others in the July 2012 shooting. If the jury finds him not guilty, he will be committed to a mental health hospital for life. If, on the other hand, the jury hands down the death penalty, Holmes is likely to be tied up in appeals for decades.