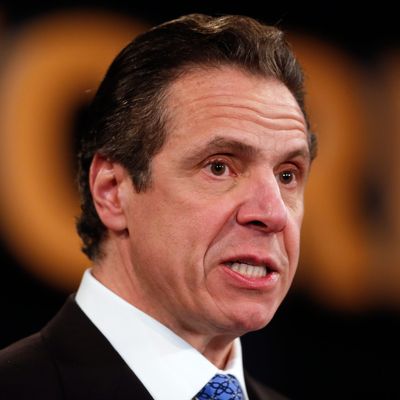 Photo: Mike Groll/AP/Corbis
In the past seven days, Governor Andrew Cuomo has run the campaign he didn't run last fall. He's dashed from Uniondale to Rochester to Mount Vernon to midtown, unveiling a barrage of proposals: to cut property taxes for middle-class homeowners by $1.7 billion, to steer juvenile offenders away from the adult criminal justice system, to create a billion-dollar broadband access program upstate, to build an AirTrain to La Guardia Airport, to raise the minimum wage, among many, many other things.
Along the way, Cuomo also announced that he was appointing or promoting or reassigning 58 administration staffers. The capper came this afternoon, in Albany, in the bunkerlike auditorium across from the state capitol building, where the governor delivered both his State of the State address and 2015 budget presentation, and added such headline items as an independent monitor to review grand jury decisions when police officers are not indicted in brutality cases. Whew.
True, naming new personnel even before you'd been officially reelected would have been a bit presumptuous. But Cuomo also pushed off, until now, the question of exactly what he wanted to do in a second term by ignominiously ignoring Zephyr Teachout in the Democratic primary, and his general election contest against Republican Rob Astorino was a formality.
Part of the delay was soundly strategic: The further in advance a politician unveils his or her ideas, the more time he or she gives opponents to shoot them down. But the style and timing of this rollout says a great deal about where Cuomo is coming from, and where he wants to go.
The governor is eager to put a dispiriting 2014 behind him. The state's economic health improved, overall, and the governor's popularity stayed fairly strong in polls, but Cuomo's year was dominated by a series of political messes. The biggest was his abrupt unplugging of the Moreland ethics reform commission, followed by a still-active investigation into the Moreland machinations by U.S. Attorney Preet Bharara. Cuomo also seemed off-balance in figuring out how to deal with the ascendance of Mayor Bill de Blasio and the state's liberal wing, led by the feisty Working Families Party. Then, hours after Cuomo (twice) delivered a forward-looking inaugural address, came a loss both personal and political, the death of Mario Cuomo.
Andrew Cuomo's eloquent eulogy for his father was in many ways the thematic beginning of the governor's second term. In the past week, he's added copious policy specifics — so many that it's clear that the sheer volume of proposals is a large part of the point, to demonstrate that Cuomo is revved up and newly energized, bursting with initiatives in every direction.
Some parts of the "Opportunity Agenda" look particularly promising. The small business tax cut could help balance the minimum wage increase (in a classic bit of Cuomo psychology, allowing the city to set a separate minimum wage was "chaotic" when de Blasio floated it; it's now a good idea because Cuomo and the state, not the mayor, would control its creation). Restoring roads and bridges is great — though the gov could have showed the subway system some more love. A student loan forgiveness program could be a boon to college graduates and help the state retain more young people.
"Just as in the eulogy for Mario, he said that his father's 'tale of two cities' was meant to unite us, not divide us, the governor is talking about 'opportunity' because it's the positive inverse of de Blasio's 'income inequality,'" a Cuomo insider says. "This is opportunity for everyone. This is the answer to the income-inequality problem, as opposed to just restating the problem."
The governor will use two characteristic tactics in trying to get his propositions through the state legislature: picking a fight and exploiting self-interest. The first was the centerpiece of his speech today. Cuomo claims the biggest impediment to improving public schools is bureaucracy, and he took a shot at the teachers unions as part of an "education industry" that only wants more money. Maybe he will be able to force changes in teacher evaluations, but this could turn into a Bloomberg-esque test of wills without similar substantive gains. Cuomo, however, is offering a very large, though somewhat contradictory, carrot: If his reforms are passed, including an increase in the number of charter schools, he'll add a whopping $700 million to the state education budget.
Another significant piece of leverage is a legislative pay raise. Cuomo is dangling it in exchange for greater disclosure of outside income by the Senate and Assembly. That play attempts to pit lower-ranking, lower-earning legislators against their senior colleagues, chiefly assembly leader Shelly Silver, who is so far unamused. 
But the design of Cuomo 2.0 reaches beyond the local skirmishes. For all of the governor's genuine focus on doing his current job well, and his dedication to improving the lives of New Yorkers, Cuomo has chosen an interesting framework for his new agenda. New York's gravest challenges and problems, he said in his inaugural address, are part of "the national unrest and the national discord." Today he concluded by describing how "these problems are national problems." But then Cuomo invoked his father as he called for "the family of New York" to show Washington and the rest of the country a path out of political, economic, and social dysfunction.
With Hillary Clinton giving every indication she's running for president, there is only the slimmest of chances Cuomo is a candidate again anytime soon. That should provide freedom for him to experiment more within New York's borders. At the same time, though, the campaign the governor has been running for the past week, and will continue running through 2015, shows that Andrew Cuomo very much wants to remain part of the national conversation.