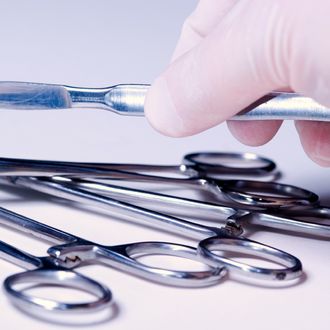 Photo: Andrei Tchernov/istock
Mayor de Blasio is reportedly taking a new approach to the question of whether New York's ultra-Orthodox Jewish rabbis should be allowed to use their mouths to clean the blood from an infant's circumcision wound. The last time we heard about this uncomfortable debate was last May, when then mayoral candidate de Blasio vowed to eliminate the Bloomberg administration's attempt to regulate the practice (it's called metzitzah b'peh). 
In case you somehow forgot, the Bloomberg-era Health Board ruled that ritual circumcisers, known as mohelim, should require parents to provide written acknowledgment of the medical recommendation against their brand of "direct oral suction," which was responsible for at least 11 herpes infections — and the subsequent deaths of two babies — in between 2003 and 2011. A group of ultra-Orthodox organizations then sued the city on First Amendment grounds. (That lawsuit still hasn't been resolved.) Now, more than two years later, the New York Times reports that the mohelim's consent forms "appear to be rarely used," and metzitzah b'peh-related herpes cases have increased. 
From the Times: 
Members of the de Blasio administration have conferred about half a dozen times over the last year with Orthodox leaders about the issue and are now close to a compromise agreement, said Avi Fink, the mayor's deputy director of intergovernmental affairs, an Orthodox Jew involved in the discussions. The goal of the new rule would be to better educate parents about the ritual's health risks, while respecting their right to have it done, he said.

"You can have something on paper that seems robust, and maybe even seems invasive and strong," Mr. Fink said of the consent requirement. "But part of how the mayor is going to ensure success in this is how many people are we actually touching and communicating with, and how much awareness and education can we actually accomplish."
Good luck, ultra-Orthodox babies.