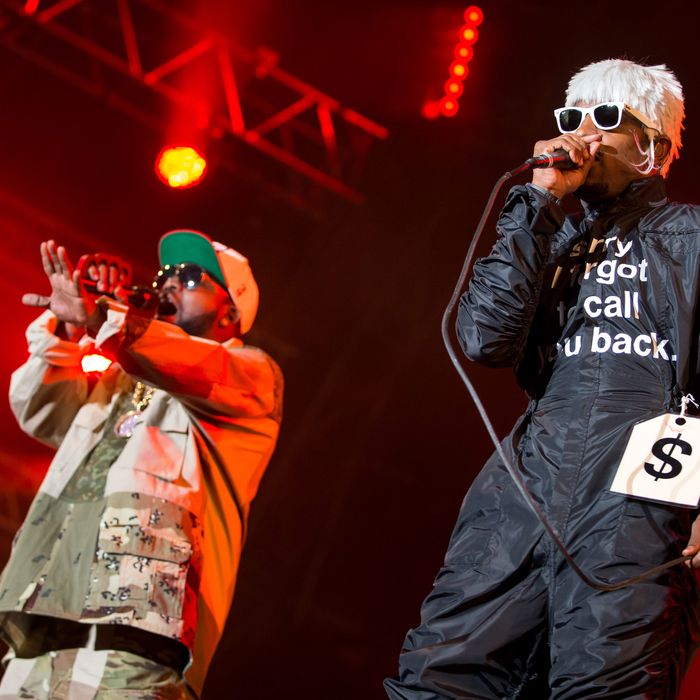 Outkast perform in Switzerland, which is not part of the Eurozone.
Photo: Philipp Schmidli/Getty Images
Today, the European Central Bank announced a Bernanke-style plan to help the Eurozone economy — soaking up €60 billion in bonds a month for a year and a half, swelling the bank's books by some €1.1 trillion, which is about $1.28 trillion.
The program has long been necessary. The Eurozone economy is barely growing. Unemployment is at 11.5 percent. Deflation is looming. It also has long been anticipated, and thus, priced into the markets. Nevertheless, the euro fell against the dollar when the bank's Mario Draghi announced the plan, and stock prices started rising — both signs of the market applauding the move.
That's because the plan was bolder than expected, and because Draghi passed what I like to call the Outkast Rule of Central Banking. (You'll find it in all the best textbooks.) Its central premise is expressed in a line from "Bombs Over Baghdad," the universally acknowledged best song of the 2000s: "Don't pull the thang out, unless you plan to bang / Don't even bang unless you plan to hit something."
In other words, do not flirt with quantitative easing or other forms of monetary policy unless you are going to implement them. And do not implement them unless you plan to push through until you have accomplished your goal. The green-eyeshade, three-piece-suit types more commonly refer to this concept as "central-bank credibility."
It is an issue that the European Central Bank has been struggling with, much more so than the Federal Reserve. Market actors have been unsure about its commitment to and efficacy in raising inflation and jump-starting growth, in no small part because of the political constraints under which it operates. These were the kinds of worries you saw in the press prior to the announcement:
"Markets have been waiting two and a half years for ECB President Mario Draghi to put pen to paper on his promise that he'd do whatever it takes, so the larger risk is for Draghi to do something less than spectacular," Art Hogan, chief market strategist at Wunderlich Securities, said …

"They will announce something, but if it lacks specificity it won't be enough to convince people this is for real, so the mechanics as well as the politics are difficult," Bruce McCain, chief investment strategist at Key Private Bank, said.
There are still a lot of questions about the new asset-purchase plan, but for the moment, markets seem convinced. Test passed. Bombs away.