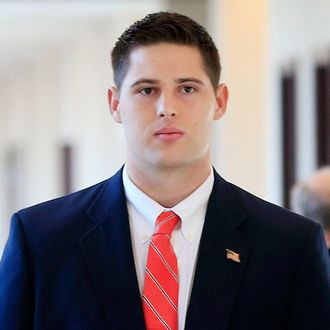 Brandon Vandenburg
Photo: Mark Humphrey/Corbis
Two former Vanderbilt football players who were charged in August 2013 for the brutal rape of an unconscious female student have been found guilty on all counts. It only took a Tennessee jury three hours to return the verdict, which found Brandon Vandenburg and Corey Batey each guilty on five counts of aggravated rape and two counts of aggravated sexual battery. Vandenburg was also found guilty of tampering with evidence and unlawful photography for sending photos and videos of the incident to his friends.
Surveillance footage of the players carrying the unconscious woman into a dorm, as well as testimony from two other players who were present, became key factors in the prosecution's case. In their opening statements, the prosecution detailed a brutal attack on a helpless victim:
The woman was unconscious when she was allegedly carried from the car into the dorm by Vandenburg. Prosecutors say that video footage shows the players dragging the unconscious woman down the dorm's hallway while giggling, snapping photos and video, and pausing to inspect her naked body. Once inside the dorm room, one player allegedly penetrated her with a water bottle while another encouraged him. One defendant allegedly urinated on the victim and "made a racial statement." Another passed out condoms to his fellow players before assaulting her. 
Vandenburg and Batey could face decades in prison for the crime.
"I am also hopeful that the publicity this case has received will lead to a discussion of how we can end sexual violence on college campuses," the unnamed victim said in a statement following the sentencing. "Finally, I want to remind other victims of sexual violence: You are not alone. You are not to blame."