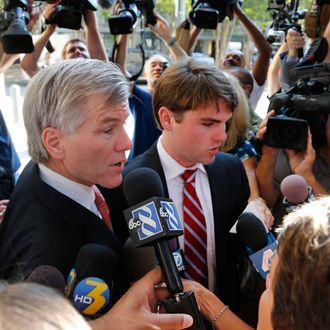 Former Virginia Governor Bob McDonnell, who was convicted of 11 counts of public corruption back in September, will serve only two years behind bars, a federal judge announced on Tuesday (and that's before the appeals). The sentence was considerably less than the decade or so prosecutors had initially hoped for.
For those in need of a refresher: McDonnell is the guy who, along with wife Maureen, took a wide array of flashy gifts and over $100,000 in loans from local diet pill company CEO Jonnie Williams in exchange for access to "the prestige of the governorship." The case led to a notably sad, tawdry trial in which the couple claimed that their relationship was so damaged that they couldn't possibly have conspired to accept Williams's offers of Ferrari rides and Louis Vuitton shoes.
"A price must be paid," said U.S. District Judge James R. Spencer as he handed down McDonnell's term. "Unlike Pontius Pilate, I can't wash my hands of it all. A meaningful sentence must be imposed." The ex-governor's lawyers had argued that their client should receive an even lighter sentence — some community service — as the spectacle of the trial had been punishment enough. Meanwhile, District Attorney Assistant U.S. Attorney Michael Dry maintained that McDonnell had "shown no true remorse" for his crimes, which were described as "unprecedented in Virginia's 226 year history."
McDonnell, for his part, insisted that he was "a heartbroken and humbled man." "All of the additional days that the lord allows me," he told Spencer, "I dedicate them to the service of others." In the meantime, he's been ordered to report to prison in February.