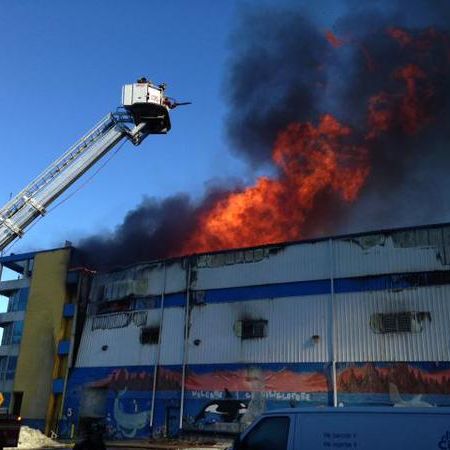 A massive fire has completely engulfed a building on the Williamsburg waterfront. According to the FDNY, the seven-alarm blaze, located at 5 North 11th Street, began at around 5 a.m. on Saturday, and firefighters were called at around 6:30. As of 12:30 p.m., there were more than 200 members of the FDNY on the scene.
The warehouse appears to belong to CitiStorage, which stores documents and boxes for local businesses, and all of the cardboard and paper is fueling the fire. The FDNY also said that this morning's strong winds are making it difficult to fight the blaze and that it might be several hours before it's out. No one appears to have been in the facility, and no injuries have been reported so far.
Here's what it looks like out there:
This post has been updated throughout.