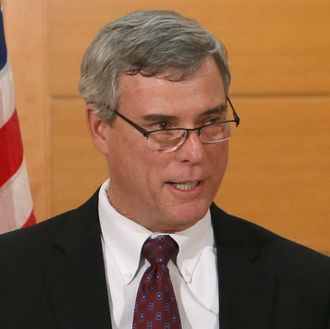 Photo: Cristina Fletes-Boutte-Pool/Getty Images
One of the members of the grand jury that voted not to pursue criminal charges against former Ferguson PD officer Darren Wilson for August's fatal shooting of 18-year-old Michael Brown is suing for the right to talk about the case. The juror — who has remained anonymous and is referred to in documents as "Grand Juror Doe" — alleges that the prosecutor (and defendant, in this case), Robert McCulloch, has misrepresented the process and that he (or she) will help clarify the issues at hand. 
Among the key issues the juror wants to call into question is "the implication that all grand jurors believed that there was no support for any charges," which was trumpeted by McCulloch. In actuality, several of the jurors could have voted to indict, but a state law means that this grand juror, and others, are barred from discussing what happened behind closed doors.
"The Supreme Court has said that grand jury secrecy must be weighed against the juror's First Amendment rights on a case-by-case basis," ACLU of Missouri's legal director, Tony Rothert, said in a statement. "The rules of secrecy must yield because this is a highly unusual circumstance. The First Amendment prevents the state from imposing a life-time gag order in cases where the prosecuting attorney has purported to be transparent."
According to the lawsuit, filed Monday, Doe wants to question many of McCulloch's statements surrounding the case, and whether the jury was properly briefed on the laws in question. It also alleges that this case was treated differently from the many other cases that appear before a grand jury each week. "Plaintiff would like to speak about the experience of being a grand juror, including expressing Plaintiff's opinions about the evidence and the investigation, and believes Plaintiff's experience could contribute to the current public dialogue concerning race relations," reads the complaint.