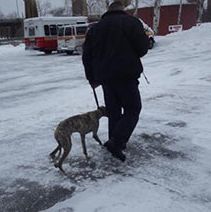 Lt. Kelley and Burt.
Photo: FDNY
And now a little something to calm your nerves after the tale of the Florida Zombie Cat: DNAinfo reports that a New York fireman rescued a lost puppy during this week's snowstorm. 
According to owner Lauren Piccolo, Burt, a one-year-old whippet, disappeared from his Harlem home this August. Meanwhile, several weeks ago, Lt. Dave Kelly began putting out food for a dog that he'd noticed picking through the garbage at the FDNY's Randalls Island Fire Academy. "[Whippet dogs] are skinny anyway, but this dog was really skinny," he said. "I'd try to feed him to try to capture him, but he would just run away."
Kelly explained that, as the snow approached, he "figured it wasn't a good outlook for the dog — I didn't know what would happen to him." So he looked online for missing pets resembling the one he'd found, eventually coming across a Facebook page set up by Piccolo. After contacting Piccolo and determining that the dog was probably hers, Kelly baited a cage and managed to capture Burt. He was reunited with his human on Tuesday. 
"While Burt is a resilient dog, I don't think he would have survived such a fierce storm. The FDNY's efforts were incredible and timely!" said Piccolo. "Burt is resting at home and is expected to make a full recovery." This story alone makes up for the unnecessary subway shutdown.