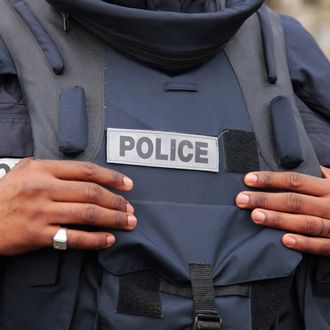 Photo: Julie Franchet/Corbis
Authorities rounded up and charged four people linked to Amedy Coulibaly, the gunman who killed a French policewoman earlier this month before taking hostages at a kosher supermarket east of the city. Coulibaly killed four of the hostages before being shot by police, and a video released after his death shows him pledging allegiance to the terrorist group ISIS. 
The four men charged Wednesday were given preliminary charges of association with terrorism. The exact nature of their involvement is not yet known, but French police believe they may have helped Coulibaly with logistics and weapons for his two attacks. Authorities are also searching for the people who edited and uploaded the video of Coulibaly pledging allegiance to ISIS after his death. (Said and Cherif Kouachi, the brothers who killed 12 people at French satire magazine Charlie Hebdo, proclaimed allegiance to a different terrorist group, Al Qaeda in the Arabian Peninsula.) 
Coulibaly's alleged accomplices are all in their early 20s, fitting the typical profile of ISIS recruits, and at least one of them met Coulibaly in prison. Some of them are tied to Coulibaly by phone records showing contact around the attacks and others by DNA traces found on Coulibaly's weapons. French authorities have not released their full names, but have identified them as Willy P., Christophe R., Tonino G., and Mickael A.
Also on Wednesday, prime minister Manuel Valls announced wide-ranging security measures, including the surveillance of 3,000 people linked to international terror networks. The number of French residents with such connections, Valls added, had grown 130 percent in the last year. To address the growing threat, France will be adding 1,400 police jobs, many of them in intelligence, and will be recruiting additional government-vetted imams to work with prison populations. Coulibaly and the Kouachi brothers are all believed to have radicalized during their time in prison.