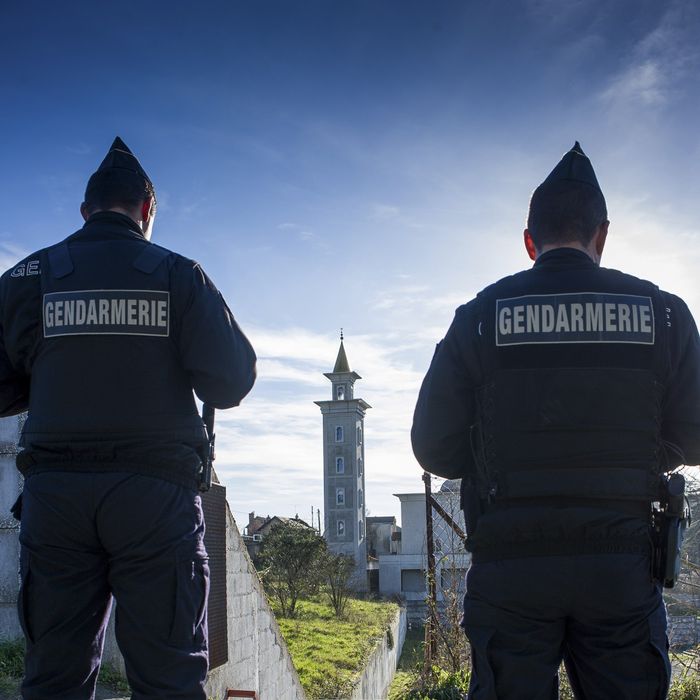 Photo: GUILLAUME SOUVANT/AFP/Getty Images
The three gunmen who killed 17 people in attacks on various targets in France last week are dead, but now police are searching for as many as six people who were part of the same terrorist cell. French prime minister Manuel Valls said in a television interview on Monday that Amedy Coulibaly, who killed a policewoman and four people in a kosher grocery store, "undoubtedly" had at least one accomplice. Two police officials told the Associated Press that the terror cell Coulibaly and brothers Said and Cherif Kouachi belonged to had as many as ten members, and "five or six could still be at large."
One of those suspects has already escaped to Syria. Surveillance footage published in a Turkish newspaper on Monday appears to show Hayat Boumediene, Coulibaly's girlfriend, arriving in Istanbul on January 2. She was traveling with a 23-year-old man identified as Mehdy Sabry Belhoucine. Turkish officials say that after touring the city, they made their way into an ISIS-controlled region of Syria on January 8, the same day Coulibaly killed a policewoman in the Paris suburb Montrouge. In a video posted after his death, Coulibaly pledges allegiance to the Islamic State.
The police officials said they're also looking for a man seen driving Boumediene's Mini Cooper around Paris in recent days. The depth of his involvement in the cell is unclear.
On Monday the French government increased security throughout the country, deploying 10,000 soldiers to protect sensitive sites. An additional 4,700 police officers and gendarmes were tasked with protecting 700 Jewish schools and synagogues. Security is also being increased at some mosques, as more than 50 anti-Muslim incidents were reported following the terror attacks, according to the Central Council of Muslims in France.
Yves Trotignon, a former top official in DGSE, the French equivalent of the CIA, told Time he's spoken with the agents investigating the attacks, and they fear there's more to come. "There is a strong feeling that this is not over," he said. "There is a strong feeling that maybe something more dangerous is ahead."