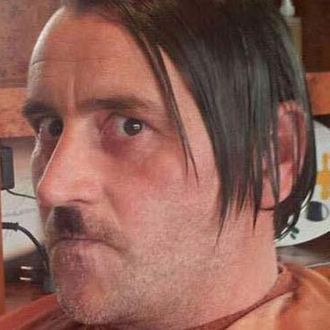 Lutz Bachmann as Hitler.
Photo: Facebook
Dressing up as Adolf Hitler is almost never a great idea, but it's particularly ill-advised for anyone in charge of a German political organization. Lutz Bachmann, a co-founder of the disturbingly large group Pegida (the German acronym for Patriotic Europeans Against the Islamization of the West), just learned this lesson the hard way.
On Wednesday, 41-year-old Bachmann was forced to give up his Pegida leadership role after a Facebook photo of him posing with a Führer-esque hairstyle and mustache went viral. According to The Guardian, the image — which Bachmann took offline when contacted by Dresden's Morgenpost newspaper — "was accompanied by the line 'he's back,' after a bestselling 2012 novel about Hitler, Er ist wieder da, by author Timur Vermes." A tipster also provided Morgenpost with Facebook chats in which Bachmann referred to immigrants as "cattle," "scumbags," and "trash."
This is not totally surprising: German Chancellor Angela Merkel and other mainstream politicians have repeatedly spoken out against Pegida, whose goals (per the New York Times) include "limiting the influx of immigrants, protecting the country's Judeo-Christian heritage and rejecting so-called hate preachers of any kind." "Followers also rail about foreigners mooching off German taxpayers," the Times added. A few days ago, Pegida had to cancel a large march because someone threatened to kill Bachmann.
When asked about the Hitler getup, Bachmann explained, "I took the photo at the hairdresser's … you need to be able to joke about yourself now and then." Prosecutors are now looking into whether they can charge him with a crime, as German law prohibits hate speech and the display of Nazi symbols. "Anyone involved in politics who dresses up as Hitler is either pretty much an idiot, or a Nazi," said Merkel's deputy, Sigmar Gabriel. Or both!