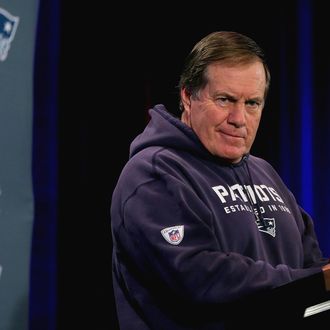 With two weeks between the NFL's conference championship games and the Super Bowl, it's not hard for even a minor controversy to dominate a news cycle. (Remember deer antler spray?) And so with the Seahawks and Patriots set to square off on Sunday, here's a guide to all of this year's assorted squabbles, both on and off the field.
Deflategate (or Ballghazi, or Whatever You Want to Call It)
Did Bill Belichick or Tom Brady have anything to do with the under-inflated footballs — making them easier to throw and catch in rainy weather — the Patriots used in the AFC championship game? Did anyone tamper with them at all after officials reviewed and approved the game balls? Could the weather and atmospheric conditions really have deflated the balls, explaining why they were found to have air pressure below league standards after the game? (Bill Nye says no, but at least one experiment says it's possible.) And what was that ballboy doing when he brought the balls into the bathroom for 90 seconds? Are the Patriots so good at avoiding fumbles that we should be suspicious? (Not really.) The biggest of this year's scandals led to a lot of questions, and even more jokes about male genitalia.
Marshawn Lynch Just Wants to Avoid a Fine
The Seahawks' running back had been threatened with a $500,000 fine if he skipped media day, the annual event in which players are asked important questions such as, "What is your favorite Teenage Mutant Ninja Turtle?" and "What is your favorite movie starring Joe Pesci?" And so Lynch showed up as required and answered every question with some variation of the phrase "I'm here so I won't get fined." Then after a little less than five minutes, he left. (The NFL being the NFL, though, Lynch still might get fined for wearing a hat with the logo of his Beast Mode brand, since league rules prohibit the promotion of brands that conflict with league partners during certain events.)
Speaking of Lynch: The League Will Be Watching His Crotch
Lynch grabbed his crotch after scoring a touchdown in the NFC title game (and was fined $20,000 for it), but the league has made clear that if he does it in the Super Bowl, he'll be assessed a 15-yard penalty for unsportsmanlike conduct and Seattle will have to kick off from the 20-yard line. In a spinoff to this one, the league had been selling a $150 collage of photos that included one of Lynch making the gesture, but it has since been removed from the league's online store.
Did LaGarrette Blount Orchestrate His Return to New England?
Among the New England conspiracy theories this week: Whether the running back tried to get cut by the Steelers because he knew the Patriots, with whom he played in 2013, would sign him. On a scale of one-to-ten deflated footballs, this one gets maybe half a ball.
GoDaddy Pulls Its Puppy Ad
The web-hosting company planned on airing a spoof of a Budweiser ad about a lost dog who finds his way home with the help of the company's famous Clydesdales. In the GoDaddy ad, the puppy finds his way home — and is promptly shipped away because his owner sold him on a website she created. The ad was criticized by the Monterey County SPCA for making light of puppy mills, noting, "If you can buy a puppy online and have it shipped to you the next day, it's likely you're supporting inhumane breeding." GoDaddy pulled the ad in response to the backlash.
Richard Sherman vs. Robert Kraft
The star of one of last year's pre–Super Bowl story lines made headlines again, this year by talking about what the friendly relationship between New England owner Robert Kraft and commissioner Roger Goodell means for Deflategate:
"Will they be punished? Probably not," Sherman said. "Not as long Robert Kraft and Roger Goodell are still taking pictures at their respective homes. He (Goodell) was just at Kraft's house last week before the AFC Championship. Talk about conflict of interest. As long as that happens, it won't affect them at all."
Kraft responded by calling Sherman a "marketing whiz." He also noted that the party in question was for sponsors, who in turn grow league revenues, which ultimately benefits players because they get a large share of that money. Said Kraft: "I think Mr. Sherman understood that he's the biggest beneficiary, because they get over 50 percent of the revenues. So he didn't go to Harvard, but Stanford must be pretty good because he figured it out." Sherman then got into a debate with a reporter at media day who'd challenged him on his allegations. Said Sherman: "How many other owners does (Goodell) hang out with and take pictures with at their homes?  So did all these (owners) defend him in the Ray Rice deal, or was it Robert Kraft? Come on, who was the first person to call Roger Goodell (after the Rice scandal erupted)?"