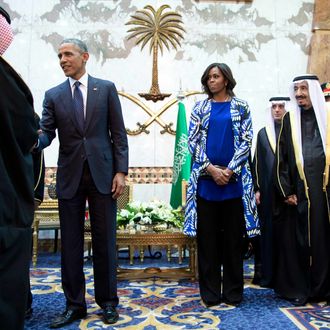 Photo: Carolyn Kaster/AP/Corbis
Women in Saudi Arabia cannot drive. If they want to travel, have surgery, or go to college, they have to get written permission from a man. But during her recent visit to Riyadh, Michelle Obama managed to successfully navigate the delicate line between respecting religious gender restrictions and not adhering to them.
The AP reports that the all-male group of Saudi royals who greeted the Obamas did not all elect to shake the first lady's hand, though some did. And at a gathering later at the Erga palace, she and Nancy Pelosi were two of the few women in the room. 
The first lady donned a tasteful outfit of loose black slacks, a long tunic, and a duster, though she refused to cover her head with a scarf. Foreigners visiting Saudi Arabia are allowed to appear outside with their heads uncovered; Saudi Arabian women are not.