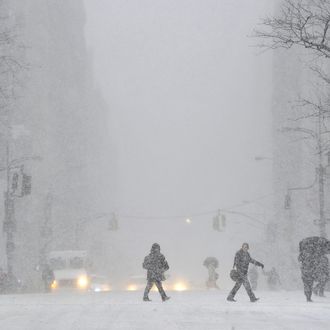 Photo: TIMOTHY A. CLARY/2014 AFP
Just in case you woke up feeling #blessed that it's Friday, Mother Nature has a little surprise to totally ruin your mood. It snowed last night! And it's snowing now. And there will be strong wind gusts. Ugh, let's all just go back to bed forever.
The National Weather Service has issued a special weather statement for the New York metropolitan area warning of rapidly accumulating snow, wind gusts up to 25–35 mph, and whiteout conditions, meaning the snow will be so heavy and the wind so strong, you'll barely be able to see a few feet in front of you. All this should make for an absolutely lovely stroll to the train, wouldn't you say?
A band of moderate to locally heavy snow will move east across portions of the lower Hudson Valley … southwest Connecticut … the New York City metropolitan area … and western Long Island between now and 9 am. The snow will accumulate quickly on roads … and some locations within this band could receive a quick inch of accumulation in a half hour. This plus winds gusting to 25 to 35 mph will result in brief whiteout conditions … causing very hazardous travel conditions.
The good news is the snow should taper off by late morning, just in time for you to have already endured the hellishly blizzardlike commute and to be snuggled up cozily in your office.