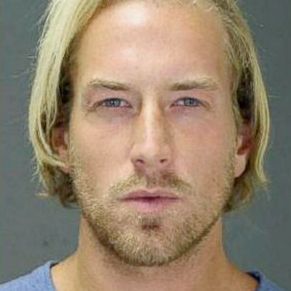 Tommy Gilbert, the 30-year-old son of hedge-fund manager Thomas Gilbert, was arraigned Monday night on charges of second-degree murder and weapons possession after he allegedly killed his father on Sunday afternoon, staging the scene to look like a suicide. The court denied him bail, as there's some speculation that Gilbert Jr. was looking to flee the city (at least before he got distracted by his TV).
This isn't Tommy's first run-in with the dark side. The New York Post reports that the gym-rat had a long history of petty beefs and was reliant on his parents for much of his lifestyle. According to the Post's sources, the younger Gilbert got a $2,400 a month housing allowance for his Chelsea apartment and a $600 spending budget from Mom and Dad. The deadly conflict allegedly arose when the elders decided to cut his spending budget by $200 (and eventually by $100 more). Though this still would have left Gilbert with more than $2,500 a month to live off, that's probably not much when you're spinning in the black-tie party circuit, as Gilbert allegedly was. 
And, of course, the money was a drop in the bucket after all the parents had invested in his fancy education: The younger Gilbert attended the Upper East Side's Buckley School, where annual tuition is more than $30,000 a year, followed by the $54,000-annually Deerfield School in Massachusetts. After high school, he followed in his father's footsteps and enrolled at Princeton University, where he studied economics and graduated in 2009.
Despite these early privileges, Tommy Gilbert — according to his ex-girlfriend, socialite Anna Rothschild — preferred to focus on hitting the gym and surfing. Though the pair broke up in May, they kept in touch, and Rothschild said a murder "is the last thing in a million years that I thought he could do." When he wanted to follow in his dad's footsteps and start a hedge fund, "his dad wouldn't help him and told him he was stupid." Other anonymous sources suggested that the son suffered from obsessive compulsive disorder and was off his medication at the time of the attack. 
But he was also vengeful. The Post alleges that Gilbert Jr. was a nuisance to his parents' East Hampton community. When a local 17th-century house burned down in September, he was named as the main suspect, though he hasn't yet been charged. The 30-year-old is said to have fought with the family's son over a girl — and one source even told the Post that he may have killed that family's innocent dog ahead of the fire.
Rothschild said he was also desperately lonely. His parents may have been his only friends: "His phone never rang. No one texted him or called him. The one time it rang in four months while we were together, it was his mother," Rothschild told the Post.