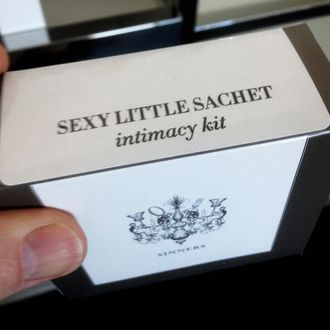 Photo: Henry Blodget/Business Insider
Henry Blodget, editor and CEO of Business Insider and self-proclaimed vibrator noob, apparently located a time machine at the Consumer Electronics Show and traveled back to the year 2005, where he found himself shocked — shocked — at one particular item stowed away in his hotel mini bar.
While staying at a "supposedly family-friendly hotel" in Las Vegas called SLS, Blodget made a heinous discovery: His mini-bar came stocked with a sex kit, a relatively typical inclusion for upscale hotels, that included two condoms, lube, and a minivibrator.
Appalled by this revelation, Blodget observed, "I'm no expert in vibrators, but I was surprised to learn that one could fit in that little box." That's an actual quote.
Blodget also realized that the sex kit was microchipped, meaning that if he had it removed from the tray for more than 30 seconds, the hotel would automatically charge it to his room.
Henry, you're the CEO — you don't need to write a whole blog post to justify a sketchy expense report charge.