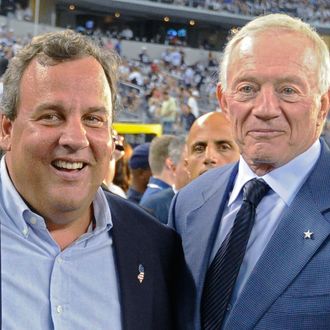 Chris Christie and Cowboys owner Jerry Jones.
Photo: Larry W. Smith/Corbis
By now, you've probably seen images of New Jersey governor Chris Christie celebrating with Dallas Cowboys owner Jerry Jones during the team's playoff win yesterday. But it's not the first time that Christie's team preferences have proven to be unpopular with residents of the Garden State. Not that Christie particuarly cares. Said the governor in 2010 of his loyalty to his teams: "I always hated Hillary Clinton wearing a Cubs hat or a Yankees hat. I'm a Cowboys fan, I'm a Mets fan, I'm a Rangers fan, I'm a Knicks fan." Here, a guide to how Christie's assorted rooting interests have developed, polls be damned.
Dallas Cowboys
Two NFL teams now play their home games in New Jersey, but Christie has long rooted for America's Team (or, more accurately, the team America loves to hate). "I was a big fan when I was your age," he told a group of students last year. "I was a big fan of Roger Staubach, who was the quarterback for the Cowboys back then. The Giants and the Jets pretty much stunk when I was a kid and my father was a Giants fan. I used to remember watching him when I was eight, nine years old and every Sunday he would watch the Giants and yell at the TV set. I used to think to myself, 'Why would I want to root for a team that makes you angry?'" In other words, young Chris Christie was a total front-runner. (In 2010, Christie described himself as a "secondary Jets fan," because his son roots for them.)
New York Rangers
The NHL is currently the only one of the four major pro leagues with a team that uses New Jersey in its name. Christie, though, isn't a fan of the Devils, but rather their biggest rival, the Rangers. The Devils didn't come into existence until 1982, the year Christie turned 20, and he stuck with the team he cheered for as a kid. Said Christie in 2010: "It's not that I don't want the Devils to do well. I want them to do well when they're playing anybody but the Rangers. That's who I grew up rooting for."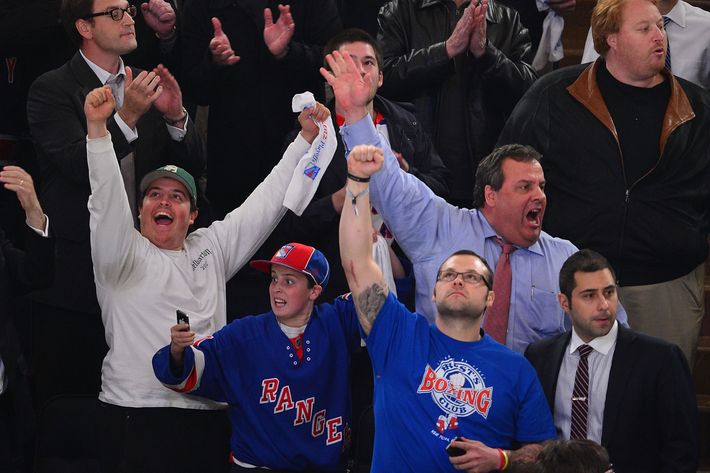 New York Knicks
New Jersey had an NBA team until just a few years ago, but Christie didn't root for them either. As he explained to the Star-Ledger in 2010, the Nets still played on Long Island when he was a kid — they moved to Jersey in 1977 — so the Knicks would have been the nearest NBA team for someone living in northern Jersey.
New York Mets
Baseball's the only one of the major pro sports that's never had a team play its home games in New Jersey, so Christie's allegiances there aren't as controversial. Christie, a former high school catcher, hung photos of Tom Seaver and Jerry Koosman on his office wall, and once told WFAN's Boomer and Carton that he'd love to be the team's GM someday. As for the other local baseball team, Christie said last year that he's never quite understood supporters of the Mets' crosstown rival: "OK, here's what I don't understand about Yankees fans: The Mets stink. We're awful. And the Yankees are usually really good. So why do you boo us? You should feel badly for us. We root for this awful team that never wins and yet the Yankees fans boo us. I don't understand that." If the Mets enjoy any playoff success, by the way, Christie's ready to celebrate with their owner, just like he did with Jerry Jones. "If I'm on Fred Wilpon's box and the Mets get into the playoffs or win a playoff game, I'm hugging everything in sight," he said on WFAN this morning. "I'm hugging the people serving us the drinks. I'm hugging everybody."