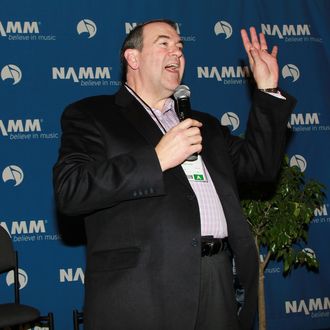 Photo: David Livingston/2011 Getty Images
Mike Huckabee, the former governor of a flyover state whose accomplishments I had to Google just now because I literally couldn't think of any, has decided that the best way to drum up attention this election cycle is to insult Beyoncé, a record-smashing pop musician who is on a first-name basis with the entire world.
In the new issue of People magazine, Huckabee throws some serious shade at Queen Bey and insults the Obamas' parenting skills in the same breath. According to the AP:
"I don't understand how on one hand [the Obamas] can be such doting parents and so careful about the intake of everything — how much broccoli they eat and where they go to school … and yet they don't see anything that might not be suitable" in Beyoncé's lyrics. He also said Beyoncé's choreography is "best left for the privacy of her bedroom."
Another thing perhaps best left for the privacy of your bedroom, Mr. Huckabee? Your dreams of becoming president. OHH, YA BURNT.