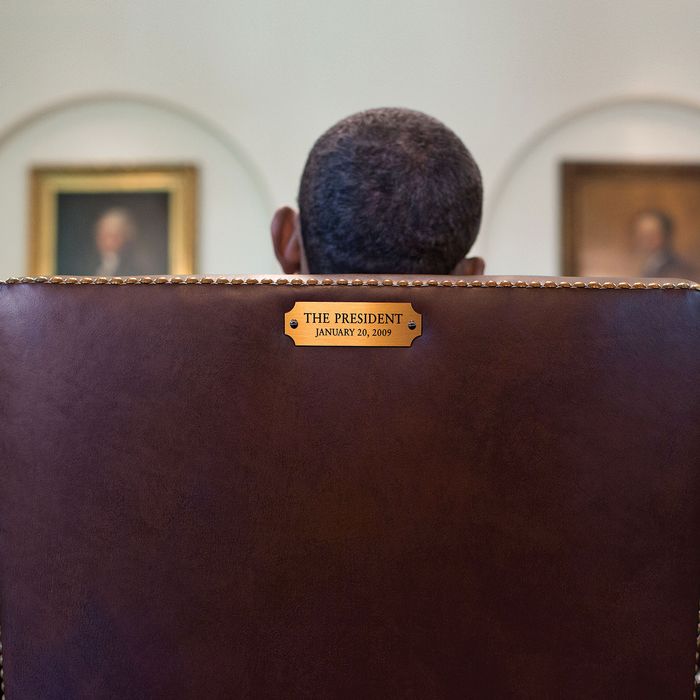 Bad, ungrateful blogger.
Photo: Pete Souza/Courtesy of the White House
Yesterday, the Huffington Post was gracious enough to publish an item contributed by once-promising author turned mediocre blogger Barack Obama. That same day, Barack Obama told House Democrats to "get informed, not by reading the Huffington Post." This raises not only the question of why Obama does not want Congress to read his own work, but why the Huffington Post continues to employ him at all.
A review of Obama's career reveals him to be a writer whose career is in precipitous decline. He began his literary career with a highly regarded memoir. He took a dozen years to produce a second work, which was greeted much less favorably by critics. Since then, his literary output has, for whatever reason, been reduced to an infrequent trickle of unmemorable blog posts. Obama's latest is just a string of rote doggerel:
Because we still have work to do. As a country, we have made it through some hard times. But we've laid a new foundation. We've got a new future to write. And I am eager to get to work.
A few years ago, maybe the Huffington Post needed this kind of crap writing to fill out its homepage. Nowadays they can do much better — it has an increasing amount of high-quality excellent reporting of its own. They don't need a third-rate blogger like Barack Obama, clinging to the dying stages of a once-promising literary career. And they certainly don't need him if he's going to return their generosity by badmouthing them in public. Fire this hack.