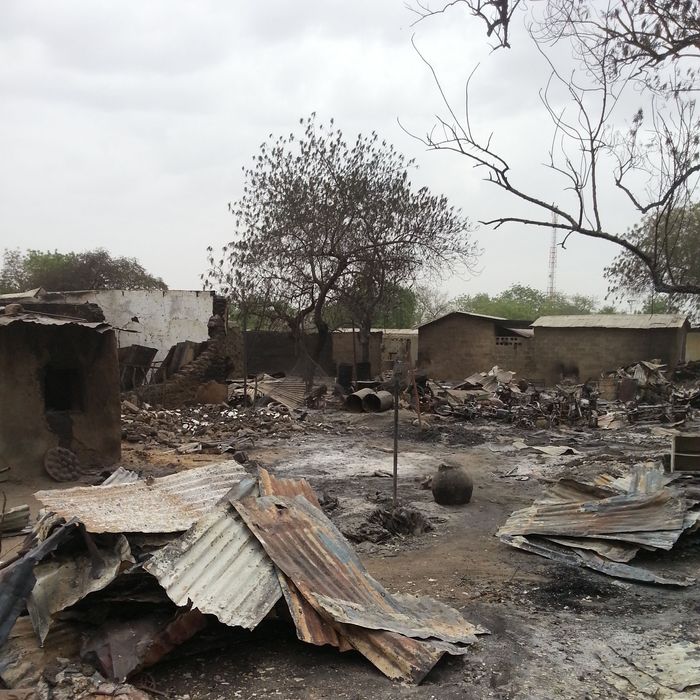 The site of a Boko Haram attack carried out earlier this year.
Photo: Haruna Umar
The terrorist group Boko Haram carried out a major assault on northeastern Nigeria's biggest city, Maiduguri, on Sunday. Boko Haram attacked Maidurguri, the capital of Borno State, from three directions, the Associated Press reports, with Nigerian troops killing 200 of the militants. Defense Ministry spokesman Brigadier General Chris Olukolade told reporters that the military eventually managed to repel the Muslim extremists, who reportedly also struck at least two villages south of Maiduguri at around the same time.
"Certainly this is the most serious attack yet," Borno State governor Kashim Shettima told the New York Times. "We faced a really existential threat." From the Times:
Before being repulsed, the insurgents again demonstrated the tactical mettle that has allowed them to gain control of territory for hundreds of miles around Maiduguri. They overwhelmed soldiers at one of the principal military checkpoints outside the city, arriving in buses as if they were ordinary travelers, Mr. Shettima said. "The soldiers were completely caught off guard," he said.

Before the soldiers realized who they were, the Boko Haram insurgents opened fire. "I believe they must have killed hundreds," Mr. Shettima said as he tried to give an estimate of the military casualties. At the same time, the Islamists were attacking another position close to the city, straining the military's resources in the area.
The Maiduguri assault occurred during Secretary of State John Kerry's visit to Nigeria. He met with both President Goodluck Jonathan and his rival former military dictator Muhammadu Buhari in Lagos (more than a thousand miles away from the Boko Haram attacks) to discuss the country's February presidential election. Acknowledging recent violence related to the campaigns, as well as Nigeria's history of post-election unrest, he said, "This will be the largest democratic election on the continent. Given the stakes, it's absolutely critical that these elections be conducted peacefully." Kerry added that the United States "[wants] to do more" to fight Boko Haram, but that help "will depend to some degree" on the "credibility, accountability, transparency and peacefulness of this election."