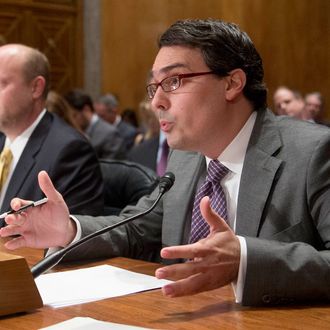 Jerry Brito, Bitcoin lobbyist
Photo: Bloomberg/Getty Images
Who do you call if you want to call Bitcoin?
For officials in Washington, the question might not be as vexing as its Europe-related counterpart, sure. But it is one that Jerry Brito, formerly of the free-markets-loving Mercatus Center at George Mason University, started to ponder last year.
With the infamous Satoshi Nakamoto unavailable, there were scant resources available for policymakers and regulators when they had questions about the mechanics of the block chain, or the theft of huge sums of the currency, or its wild swings in value. Moreover, Bitcoin had few advocates on the Hill as the wonks in Washington started to ponder whether and how to regulate the technology-slash-currency.
"Folks in Washington have heard about Bitcoin, and they understand it's something they have to start paying attention to," Brito told me. "But they have the general public's understanding of it." He paused a beat. "That means they don't know a lot about it."
To fill the gap — and backed with a million dollars in industry cash — Brito launched a nonprofit, Coin Center, in September. (It got a spiffy new website this month.) The mission is threefold, he said: educate lawmakers and regulators about what Bitcoin is and is not; perform policy research; and act as a booster for Bitcoin.
"We're advocates," Brito said. "We're not advocating on behalf of any particular company or industry. We think simply that this technology offers a lot of benefits to consumers and to the wider economy and the world generally."
For the venture-capital types with millions of dollars — or bitcoins — on the line, the interest in having some muscle on the Hill seems more straightforward.
To many legislators, Bitcoin is not so much a potentially transformative network, but a conduit for drug money, a speculative punt, a way of making untraceable financial transactions, and a vehicle for shirking taxes. Last year, Senator Joe Manchin, a West Virginia Democrat, called on federal regulators to ban it outright. "The clear ends of Bitcoin for either transacting in illegal goods and services or speculative gambling make me weary [sic] of its use," he wrote. "Before the U.S. gets too far behind the curve on this important topic, I urge the regulators to work together, act quickly, and prohibit this dangerous currency from harming hard-working Americans."
Not all legislators are so averse, of course. In response to Manchin's letter, Representative Jared Polis of Colorado called for a ban on dollar bills. "The exchange of dollar bills, including high denomination bills, is currently unregulated and has allowed users to participate in illicit activity, while also being highly subject to forgery, theft, and loss," he wrote. "I urge regulators to take immediate and appropriate action to limit the use of dollar bills."
But one way or another, any number of agencies and offices have gotten interested. (See this recent Securities and Exchange Commission action, for instance, or this licensing proposal from New York state.) In response, the community of Bitcoin investors and activists has bulked up their Hill operations over the past year — with some arguing that regulatory clarity would help Bitcoin grow and make it more legitimate in the eyes of the business community at large, and some arguing that the crypto-currency needs regulators' hands off.
Last year, the Bitcoin Foundation retained a lobbying firm "to carry information about Bitcoin" to legislators. "Governments cannot eliminate Bitcoin from the globe, of course — it's an idea whose time has come," the foundation's Jim Harper wrote. "But they will have a large role in determining Bitcoin's adoption rate." The nonprofit Chamber of Digital Commerce launched, also promising to be an "authoritative representative for the industry." And individual companies hired or registered some political muscle, too, among them Falcon Global Capital and MasterCard. 
Now there is Coin Center. Right now, Brito said, the challenge is to ensure that Washington does not trample or delimit the technology, which remains embryonic, like the internet in the early 1990s. "It's one thing that people miss about Bitcoin and the block chain," he said. "It's what they missed about the web, too: They're open platforms for innovation. Back in 1995, when people were talking about the web, we couldn't imagine a Facebook. We couldn't imagine a Twitter." Right now, people tend to think of Bitcoin as a payments network and alternative currency, he said, but that's "just one application."
And when legislators do have questions, at least there's someone to call.