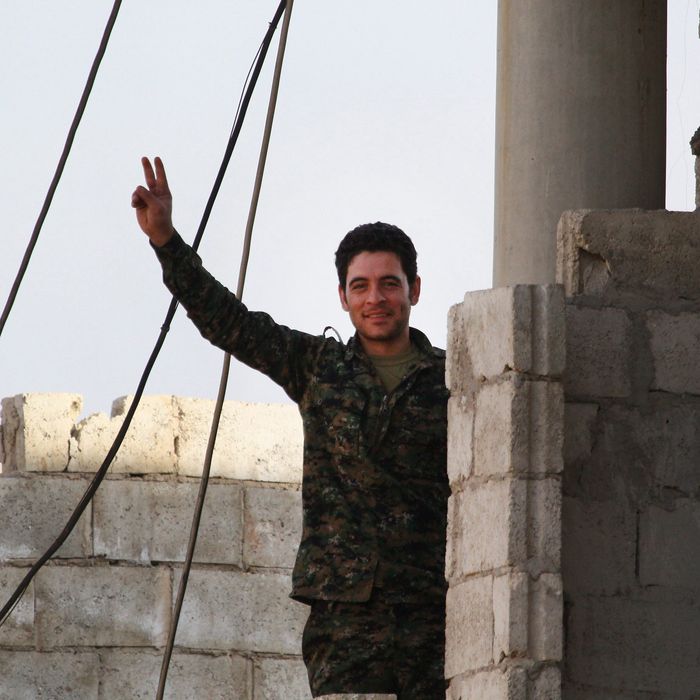 A man flashes victory sign in Kobani, Syria on January 27, 2015 after it has been freed from Islamic State of Iraq and the Levant (ISIL).
Photo: Rauf Maltas/Anadolu Agency/Getty Images
Kurdish forces say they have driven ISIS out of the Syrian border city of Kobani after months of brutal fighting — the extremist group's first major defeat since international scheming saved Yazidis trapped on Mount Sinjar. With help from the People's Protection Unit (YPG) troops, refugees have begun to return to the city known by Arabs as Ayn al-Arab, and Kurdish flags have replaced black banners flying over the town. 
The takeover was confirmed by local activists and by the U.K.-based Syrian Observatory for Human Rights, an NGO that has been monitoring the crisis, though small bands of ISIS fighters remain along the borders. By October, it almost seemed like ISIS would succeed in taking over the strategically located city, giving them control of a major crossing on the porous border with Turkey. But YPG units continued fighting, and, later that month, Turkey finally allowed Iraqi Kurds to cross through its territory to help out their Syrian brothers. Little by little, the international air strikes that had begun in September also began to add up, and ISIS backed down bit by bit.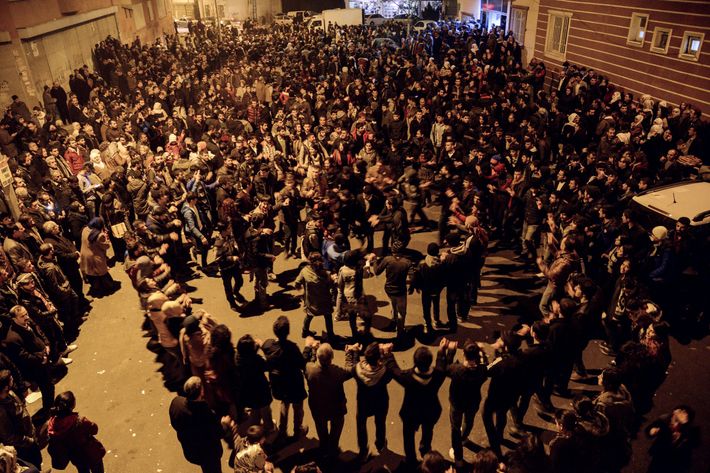 "I can see the YPG flag flying over Kobani. There are the sounds of jets flying above," a Turkish Kurd named Tevfik Kanat told Reuters from the border. "People are dancing and singing, there are fireworks. Everyone feels a huge sense of relief." While the YPG forces are making their way into the city, there are reports that some of the eastern neighborhoods that served as ISIS bases are booby-trapped with landmines, making them harder to access.
ISIS supporters reluctantly admitted a withdrawal on social media. But instead of dwelling on the Kurdish victory, they focused on the destruction the terrorist group left on its way out. 
Meanwhile, it seems like President Obama's strategy of arming other "moderate" rebels to fight ISIS is going to pieces. Unsurprisingly, the on-the-ground situation didn't have neatly drawn lines separating the U.S.-backed forces from more unpalatable groups — and those formerly backed by the U.S. are saying that aid simply stopped coming, without the government properly explaining what was going on. The issue, the Daily Beast suggests, is that the rebels want to fight two enemies: ISIS, but also Syrian leader Bashar al-Assad.