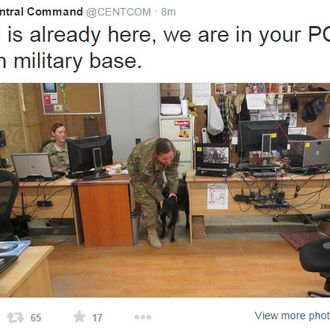 While President Obama pressed Congress to pass a new act protecting Americans from cybersecurity threats in a speech on Monday, the Twitter and YouTube accounts of the United States Central Command were hacked. Awkward!
@CENTCOM, the Twitter account for the United States Central Command, was taken over around 12:45 p.m. on Monday and immediately began tweeting pro-ISIS messages taunting the U.S. government and telling American soldiers, "WE ARE COMING, WATCH YOUR BACK." The account was quickly suspended by Twitter administrators, but not before the hackers could publish what appeared to be PowerPoint slides they claimed revealed top-secret government information. Instead, other Twitter users found many of the images came from various U.S. libraries. CNN reports the hack did not expose any classified records.
CENTCOM's YouTube account was also commandeered by hackers around the same time, and two ISIS propaganda videos were posted. The account has since been terminated "due to repeated or severe violations of our Community Guidelines."
BuzzFeed News reports that a Twitter account by the name of "Cyber Caliphate" was claiming responsibility for the hack before it was suspended.
Meanwhile: