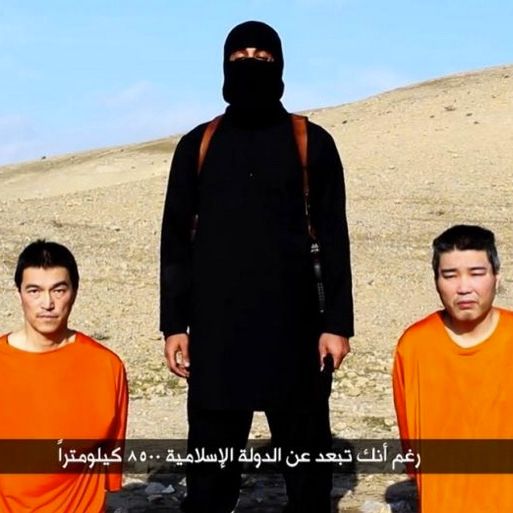 A video posted online Tuesday appears to show an ISIS militant threatening to kill two Japanese hostages. The video appeared on sites associated with the terrorist group and shows images that are sadly now familiar worldwide: two hostages in orange jumpsuits with a knife-wielding man in black standing between them. The militant speaks in a British accent and may be the man dubbed "Jihadi John." "To the Japanese public, just as how your government has made the foolish decision to pay 200 million to fight the Islamic State, you now have 72 hours to pressure your government in making a wise decision by paying the 200 million to save the lives of your citizens," says the masked man. "Otherwise this knife will become your nightmare."
The hostages are identified as Kenji Goto Jogo and Haruna Yukawa. The Wall Street Journal reports that one resembles freelance journalist Kenji Goto, who was reporting from Syria in recent months. Yukawa, who described himself as a private military operator in online posts, was shown being interrogated in a video posted in August.
The footage was released as Japanese Prime Minister Shinzo Abe was on a trip to the Middle East, which will now be cut short. "If this is real, using human lives to threaten others is an intolerable act," said government spokesman Yoshihide Suga, adding, "Our country will not be intimidated by terrorism, and there is no change to our policy of contributing to the international community's fight against terrorism."

It's unclear if Japan is willing to pay the $200 million ransom. (The militant did not specify any currency, but according to Reuters the Arabic subtitle says U.S. dollars.) As the Associated Press notes, this is the first time ISIS has specifically demanded cash for hostages, which may indicate that airstrikes against the group are taking a toll.