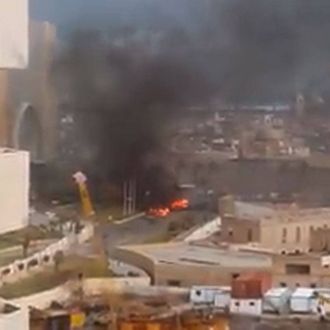 Four or five gunmen allied with the terrorist group ISIS stormed the Corinthia Hotel in the Tripoli, Libya, on Tuesday, shooting indiscriminately and killing five foreign guests. The BBC reports that the State Department has confirmed that one of the foreigners killed in the attack — the deadliest since Benghazi — was an American citizen, possibly a security contractor.
"I suddenly heard shots and saw people running towards me, and we all escaped from the back [of the hotel] through the underground garage," a civilian told the BBC. "The hotel did a lockdown after that." The Corinthia is one of Tripoli's higher-end hotels, catering largely to foreigners and diplomats, and at least one of those killed was a French citizen. The standoff has now come to an end, but estimates on the number of gunmen still vary: At least some are believed to have committed suicide using vests or other explosives.
ISIS has had an outpost in the coastal Libyan city of Derna for months — born out of general unrest in the country after the ousting of longtime dictator Muammar Gaddafi — but it's unclear how these militants are linked to the central leadership structure. Some sources report that the attack was revenge for the death of Abu Anas al-Liby, a Libyan militant detained by U.S. forces in 2013. Liby died in American custody earlier this month, before he was to stand trial for his alleged involvement in the 1998 U.S. embassy bombings in Dar es Salaam and Nairobi. 
Back in Syria, however, ISIS is continuing negotiations over the lives of Japanese and Jordanian hostages. In a new video released Tuesday, Kenji Goto — the Japanese man who went into Syria to rescue his friend from ISIS — appears with a photo of Jordanian pilot Moaz al-Kassasbeh, captured by ISIS late last year. A voice believed to be Goto's states that ISIS still wants the release of would-be suicide bomber Sajida al-Rishawi, and that Kassasbeh's life, in addition to Goto's, hangs on that decision.